Buy dates in organic quality: Discover the treasure of the desert.
Mankind has been eating dates - since time immemorial. Scientific evidence of this goes back about 4000 years into the past. In ancient times, the date palm was revered as a symbol of immortality - and apparently not without good reason: researchers have found 2000-year-old date seeds in Israel and made them germinate.
The date palms that grew from these seeds are amazing proof of how long the date's seeds can survive unharmed. This, in turn, shows how important the fruit and its quality have always been to us humans. Why is this so? Are we a race of people with a sweet tooth? Those with a sweet tooth who accepted dates as a means of payment in ancient Mesopotamia and who now also buy dates online?
Dates are a real luxury food and yet so much more than just a little treat. The so-called "bread of the desert" is extremely nutritious: This is ensured by the high proportion of dietary fiber and natural fructose. In addition, dates contain a large amount of various valuable ingredients: they offer plenty of vitamins, minerals and trace elements.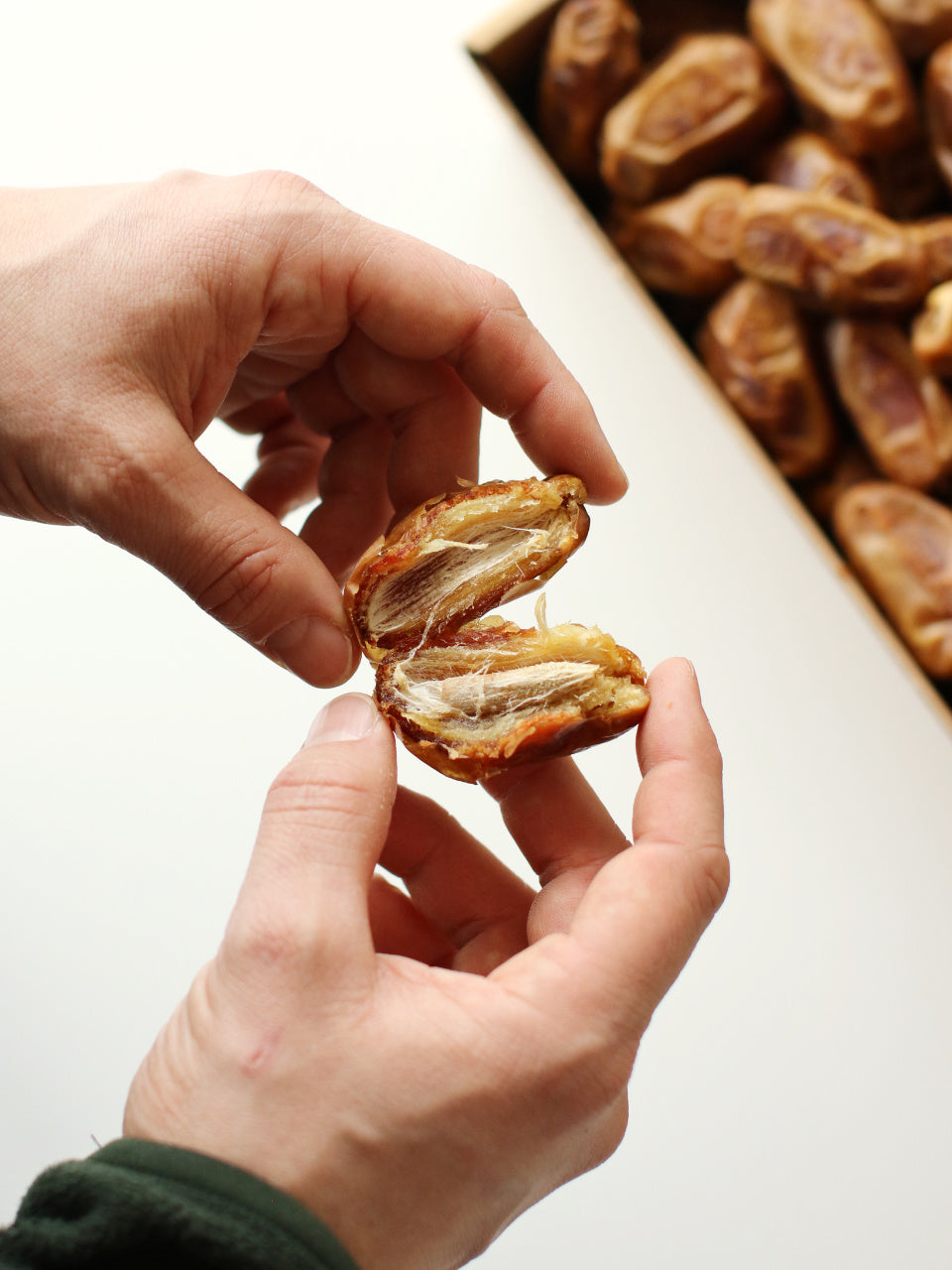 Fresh dates contain important nutrients
It's not for nothing that dates are known as the "bread of the desert", as the fruit has been proven to be a versatile source of nutrients. On average, the fruit is made up of the following components:
20 percent water
60 to 70 percent sugar of which:
Glucose (25 percent)
Fructose (25 percent)
sucrose (15 percent)
hardly any protein (2 percent)
virtually no fat (0.5 percent)
6 to 8 percent dietary fiber
1.8 percent minerals these include
potassium
Iron
Zinc
Depending on the degree of ripeness, date variety and origin, these values may vary slightly.
Let customers speak for us
Sustainable enjoyment with dates from NaraFood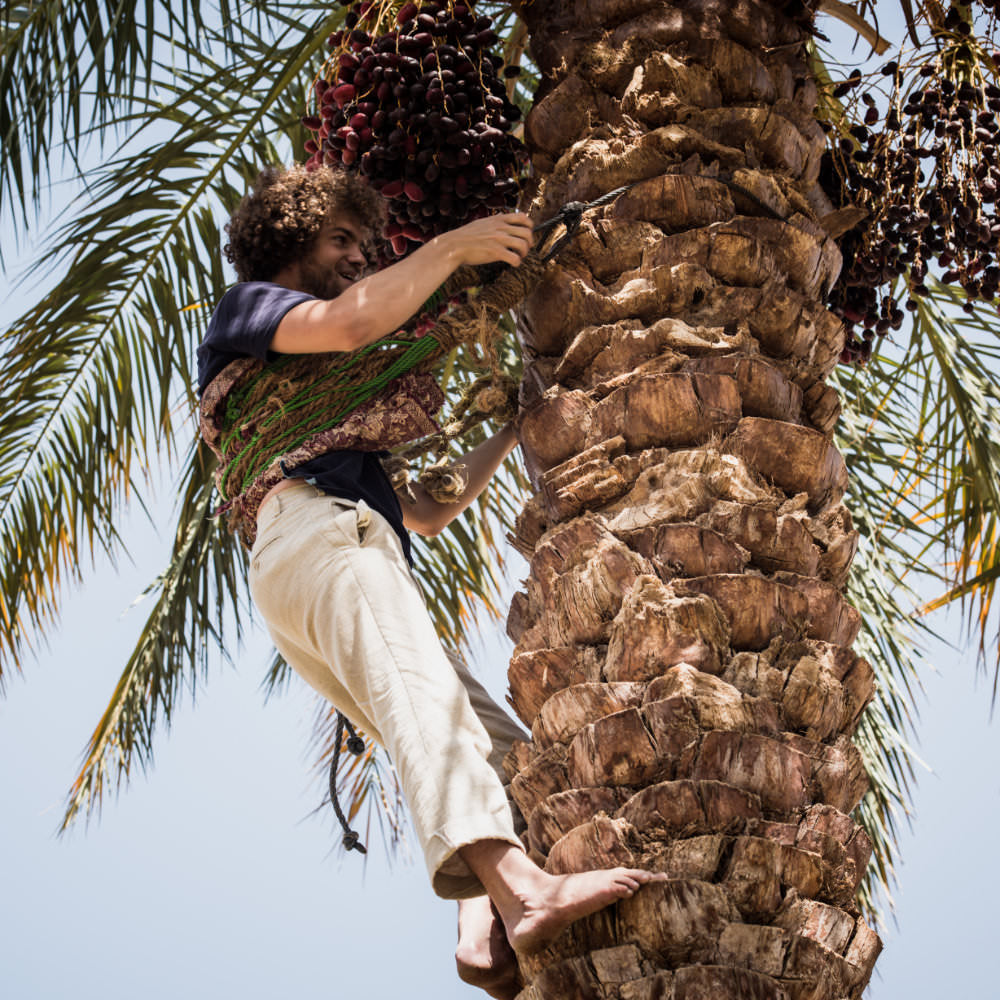 With NaraFood, we have made it our mission to offer the highest quality dates and to inspire avowed date lovers with a variety of varieties and to make those who are not yet such. In addition to taste and freshness, our quality criteria include sustainable, organic cultivation of the fruit and personal contact with the farms. If you are looking for dates that are sustainably grown and fairly traded, you have come to the right place.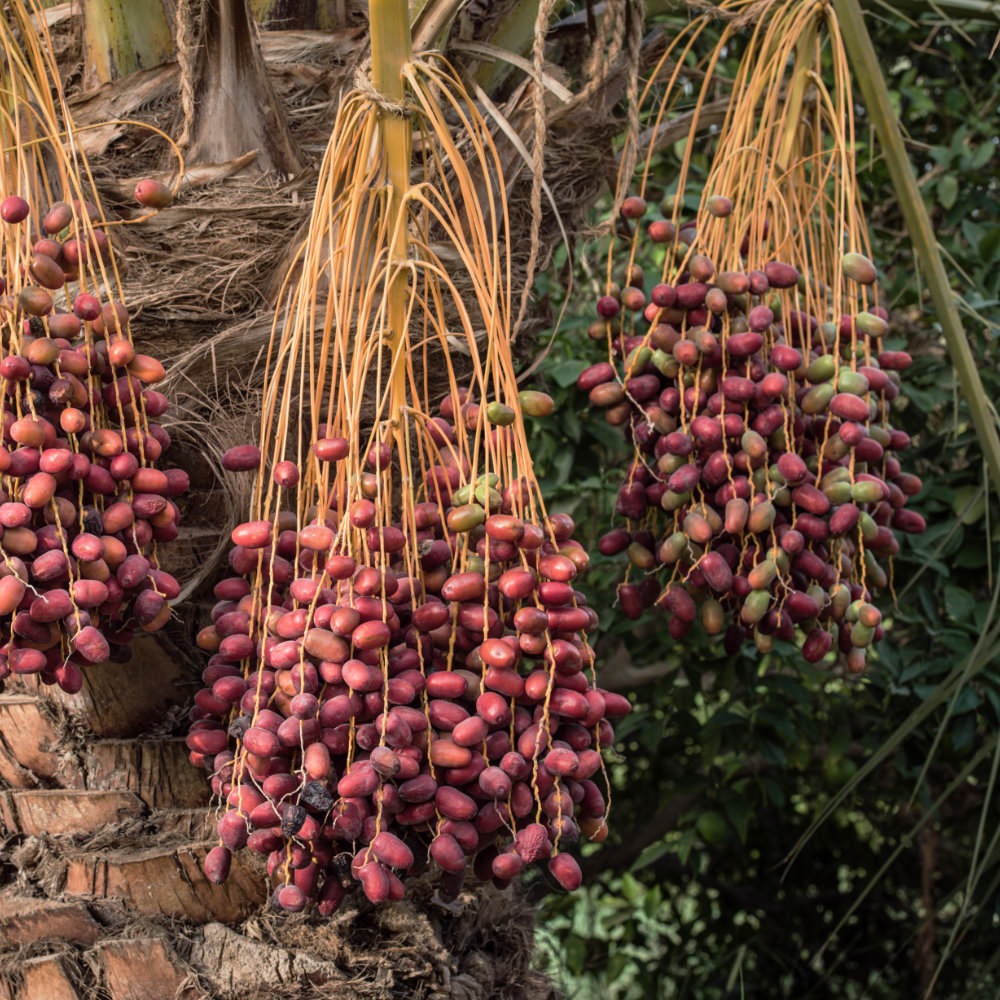 Conventionally grown dates are often heavily treated with pesticides, which not only destroy entire ecosystems and pollute the soil, but can also be extremely harmful to our own health. Therefore, when buying dates, it is important to always reach for fruits from organic cultivation.
All our dates are certified according to EU organic standards. However, we do not rely exclusively on the certification on paper, but also rely on a direct exchange with the farmers on the date plantations on site. Thus, in recent years, partnerships have been established with date farmers in various growing regions, whose measures for sustainable, organic cultivation go far beyond the EU guidelines.
A good example of this is our Persian date plantation, from which we obtain our fine Mazafati organic dates. This is laid out according to the principles of permaculture whereby symbioses between plants, animals and people ensure an all-round healthy ecosystem.
You want to know more about Nara and our dates? - Then listen to the podcast with Raphael.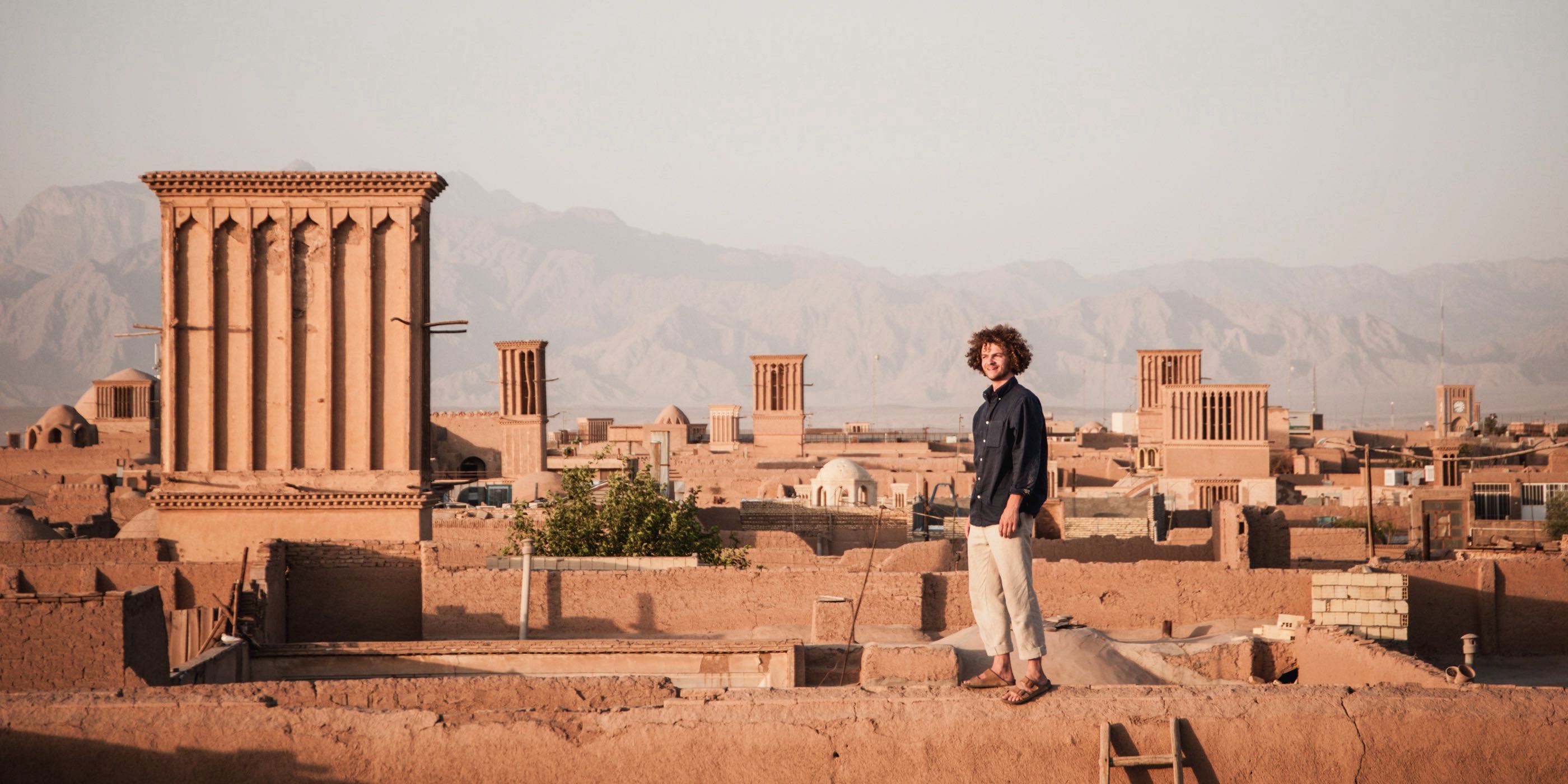 About us and our visions
As a small family business, we attach great importance to personality not only with our producers, but also with our customers. We are always happy to advise you on any questions about the date. With us you can buy different varieties of dates online and enjoy so natural, delicious and sustainable.
Conveniently order diverse varieties of dates online
We at NaraFood travel ourselves to the gardens and plantations of our farmers in the various growing regions to be able to offer dates of the best organic quality. In our online store you can order many different varieties of fresh dates online.
Date varieties
There are a total of between 100-300 different date varieties on the market - if you add up all the varieties found in nature, this number is much higher. Date varieties differ in many ways: the three main characteristics are appearance, taste and consistency. However, depending on the time of harvest, the fruits of one variety can also be very different, especially in terms of consistency. Therefore, we offer some varieties in different versions - we call these semi-dry, fresh and Super Fresh. You can buy dates in our store in dried form, as well as order fresh dates.
Among our wide selection of about 15 different types of dates, you'll find fruits with a wide variety of flavors and textures, so you can shop for dates to suit your taste. If you like sweet, fruity dates with soft, juicy flesh, our Medjool Organic Dates or Mazafati Organic Dates are a good choice. If dates are usually too sweet and you prefer a firm-to-the-bite, slightly drier flesh, then you should definitely try our Ajwa and Anbara varieties. These two old, Arabic varieties have a fine, mild sweetness.
Currently, you can buy the following date varieties in our store:
Tasting packages
For all those who are still undecided, or are just getting to know dates, we offer two different date tasting packages. Both tasting packs contain a selection of four different varieties of 100g each, which differ significantly both in taste and consistency. Beautifully packaged in an attractive box, the date tasting packs are also ideal as a gift to give someone a sweet treat with fresh fruit.
In the date tasting package No. 1 we have four different date varieties from four different growing regions: Medjool from Israel, Mazafati from Persia, Deglet Nour from Tunisia and Sukkari from Saudi Arabia.
We recommend Date Tasting Package No. 1 to anyone who ...
...would like to get to know dates
...would like to compare dates from different growing regions
...would like to please someone with fresh dates.
In the date tasting package No. 2 we have four different date varieties from Saudi Arabia.
The date tasting package No. 2 is the right thing for ...
...date connoisseurs and lovers
...everyone who wants to try date varieties that are unique on the European market
...everyone who especially loves the fine dates from Saudi Arabia
Fresh or dried?
In our online store we offer dates in three different ripening stages: semi-dry, fresh and super fresh. The semi-dry dates are allowed to ripen on the palm tree for a longer period of time and lose a large part of their moisture during this time due to the effects of the sun and hot desert winds. The fresh dates, on the other hand, are harvested while still juicy and are stored in a cool place immediately after harvesting. Finally, the cooling process is not interrupted until delivery. This way, we can ensure that the dates retain their juicy texture and fleshiness. Since fresh dates are not dried, they have a significantly higher water content. This ensures a creamy-soft flesh and the full-bodied taste. If you buy fresh dates and want to store them for a longer period of time, we therefore recommend that you continue to store the dates in a cool place in order to maintain this quality over the long term. Learn more about the optimal storage of fresh dates in our blog.
Fresh dates are versatile and their use is by no means exhausted in sweet dishes. They are excellent for salads or can enrich a fruit smoothie with another flavor note. We ourselves also like to use dates in savory dishes. For example, the juicy Medjool date tastes wonderful in a Mediterranean couscous salad. The slightly harder, small Rabbi date is wonderful as a sweet addition to a savory casserole, slowly softening and gradually adding a subtle sweetness to the dish. For many more ideas on using fresh dates, check out our delicious date recipes.
Hauptspeisen
Mit dieser feinen Kartoffel-Lauch-Suppe stillt man an kalten Tagen das Bedürfnis nach einer wärmenden Mahlzeit. Das knusprig süße Dattel-Nuss-Topping verleiht dem herzhaften Suppen-Klassiker einen ...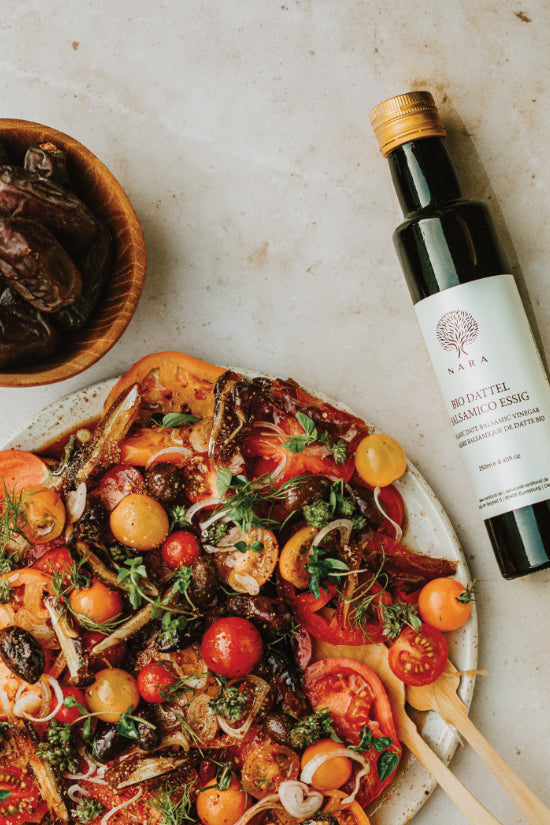 Hauptspeisen
Ein köstlicher Sommer-Salat mit sonnengereiften Tomaten, Kräutern, Oliven und feinem Dattel Dressing mit unserem Dattel-Balsamico-Essig.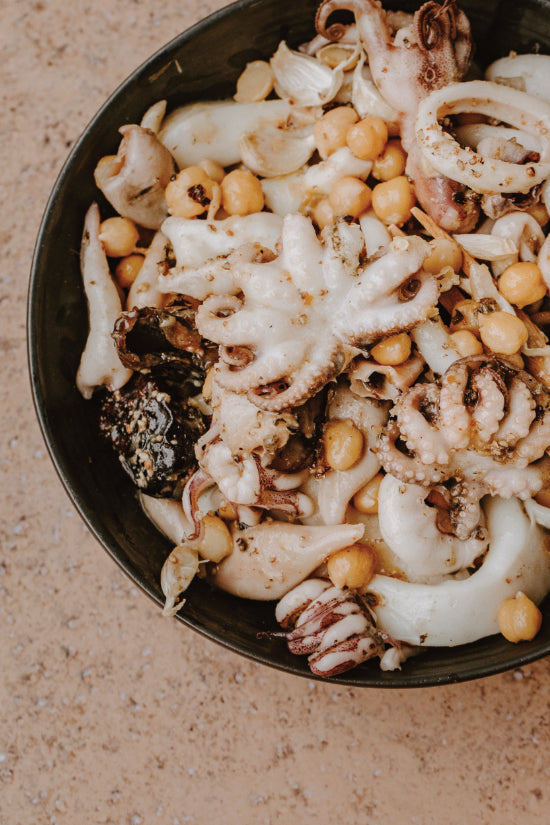 Fisch
Eine bunte Mischung aus Tintenfisch, in der Pfanne scharf angebraten, mit etwas Knoblauch und Zitrone, dazu Kichererbsen und unsere süßliche Dattelbutter. Simpel und lecker!
Date palms: Wizards of the desert
Date palms are survival artists. They are excellently adapted to the difficult conditions in the desert and can even cope with salt water as irrigation. They coax from the nutrient-poor soil and dry air an amazingly sweet fruit that is rich in content and juicy - a little explosion of different flavors in your mouth! How do the palms do it?
Date palms grow slowly and bear their first fruit only after 5 to 6 years or even later. On the other hand, the palms can live up to 100 years and give us up to 100 kilograms of dates in one season at harvest time! For thousands of years people have been cultivating date palms; hundreds of different species have been created. Therefore, nowadays you can find dates in different colors and shapes, dates each with its own form of composition, with individual aroma and consistency. Just as the oasis enriches the desert, each variety of date enriches our diet in its own unique way - and, like an oasis, invites us to spend time lingering, dreaming and enjoying...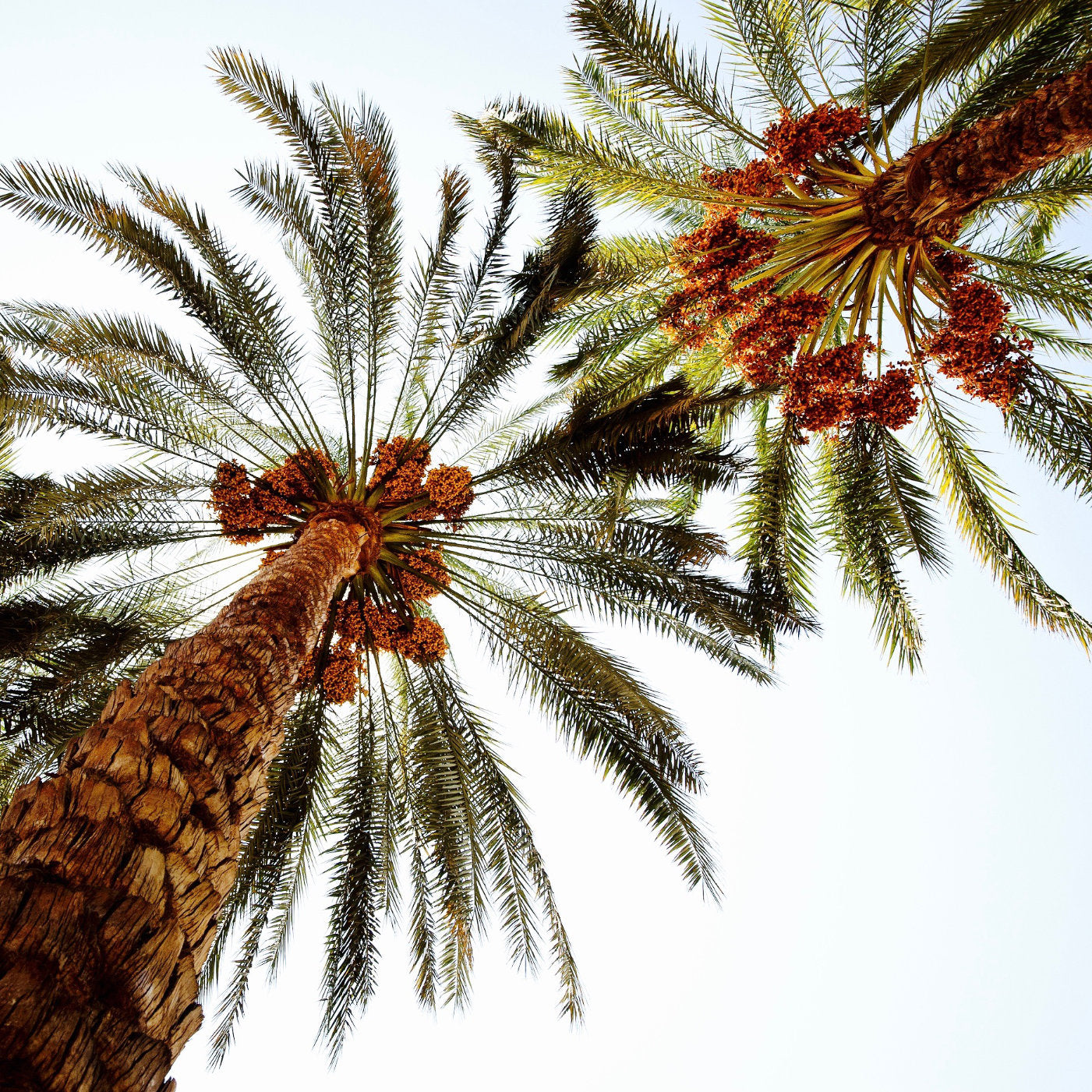 Where to buy dates?
Now you know the advantages of dates, but where is the best place to buy the fruit? At NaraFood you can easily buy dates online. You can choose from a variety of different date varieties that you like best. If you do not yet know which varieties they are, you have with our date tasting packages the opportunity to test different varieties and compare with each other. Within 1-2 business days you will receive the fresh fruit directly to your home. Here are all your advantages to buy dates in our online store at a glance:
Large selection of different varieties
Dates are constantly stored in a cool place and arrive fresh at your doorstep
different packaging sizes, from the handy, small 200g box to the practical 2kg box for busy date eaters
personal advice from us as date experts, by phone or email.
If you have any questions about the fruit or ordering, we are here to help. Browse our blog, discover our recipes or contact us directly: We will be happy to advise you if you want to buy dates.
Interesting facts about dates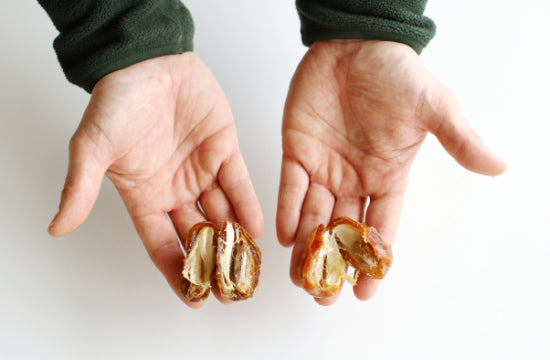 datteln
Enthalten Datteln Zink und wie viel ist es? Erfahrt hier, welche Zinkquellen ihr "anzapfen" könnt & wie man das Zink für den Körper verfügbar machen kann »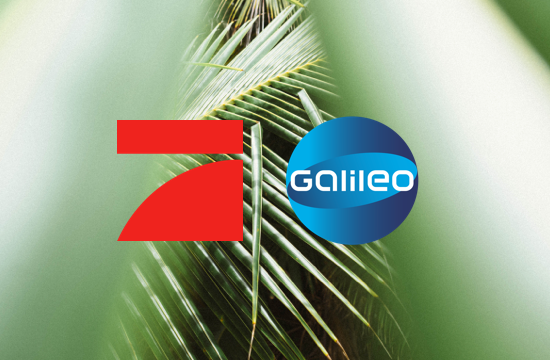 TV
Warum erlebt die Dattel aktuell einen solchen Hype und ist die Superfrucht als Zuckeralternative wirklich so gesund? Zu dieser Frage hat Galileo nun einen Betrag gedreht und war dafür auch bei uns ...
messe
Auch dieses Jahr ist NaraFood wieder auf einigen Messen vertreten.