Die ersten Medjooldatteln der Saison 
Mit Beginn der Dattelernte, werden die schönsten und größten Medjool Datteln von Hand geerntet und selektiert. Diese Datteln sind sehr saftig und durchlaufen keine natürliche Trocknung, sie werden immer nur einlagig verpackt und bis zum Verkauf tiefgekühlt gelagert. Die Medjool Fresh Dattel ist eine wahre Rohkostfrucht, die durch ihre enorme Größe und ihr Gewicht besticht. Sie ist sehr fleischig und saftig, hat eine angenehme Süße und ein ausgewogenes Aroma. Sie ist dreimal so groß wie die übliche Medjool Dattel.
In Marokko, dem Ursprungsland dieser Dattel, haben die Einwohner, so lange die Rohkostdatteln erhältlich waren täglich eine zum Frühstück verzehrt. Sie sollen sehr alt geworden sein.
Medjool Datteln von höchster Qualität
Nach dem Ihre Bestellung bei uns eingeht, werden die Medjool Fresh Datteln aus dem Kühlhaus entnommen und sehr behutsam verpackt. Viele dieser Medjool Fresh Dattel sind über 30 Gramm schwer. Es werden immer 9-12 Stück Datteln pro Schachtel verpackt. Wir freuen uns Ihnen diese limitierte Auswahl an Medjool Datteln von höchster Qualität anbieten zu können. Als Dattelfreund muss jeder mal im Genuss dieser Dattel gekommen sein. Limitierte Menge, nur noch für kurze Zeit lieferbar.
Average nutritional values per 100g
Energy 1189 kj / 284 kcal
Fat
of which saturated fatty acids
Carbohydrates
of which sugar
Protein
Salt
Country of origin: Israel
Wirklich die leckersten Datteln die es gibt! mochte Datteln vorher nicht :)!
Mega mega lecker und frisch!!
Mega!
Sowas leckeres habe ich wirklich noch nie gegessen!
Nächste Bestellung geht bald raus ❤️
Datteln mega frisch, aber
Schimmeln schnell. Macht nicht den Fehler wir ich und friert alles sofort ein!
Superlecker!
Diese frischen und saftigen Datteln schmecken sehr lecker. Es lohnt sich, diesen wunderbaren Geschmack zu entdecken.
Gut, sehr gute Qualität, aber…
Eine reicht und man ist satt in dem Bewußtsein, seiner Gesundheit etwas Gutes getan zu haben.
Hauptspeisen
Mit dieser feinen Kartoffel-Lauch-Suppe stillt man an kalten Tagen das Bedürfnis nach einer wärmenden Mahlzeit. Das knusprig süße Dattel-Nuss-Topping verleiht dem herzhaften Suppen-Klassiker einen ...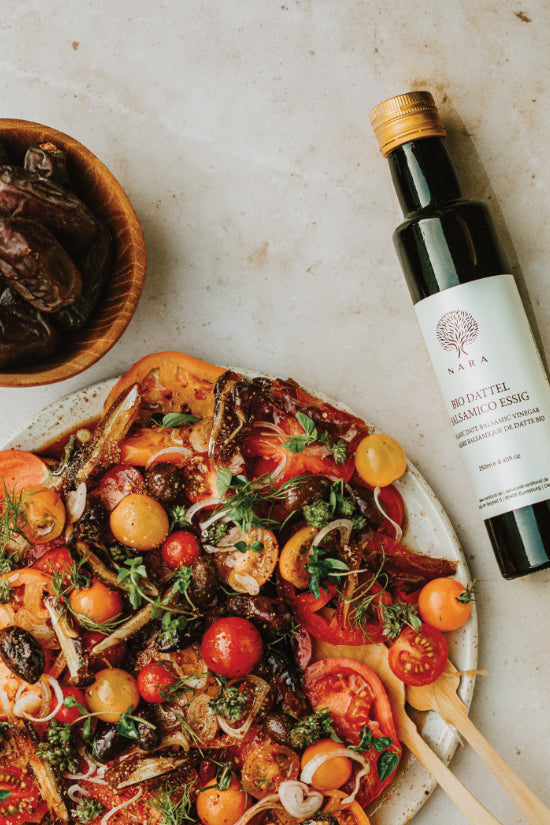 Hauptspeisen
Ein köstlicher Sommer-Salat mit sonnengereiften Tomaten, Kräutern, Oliven und feinem Dattel Dressing mit unserem Dattel-Balsamico-Essig.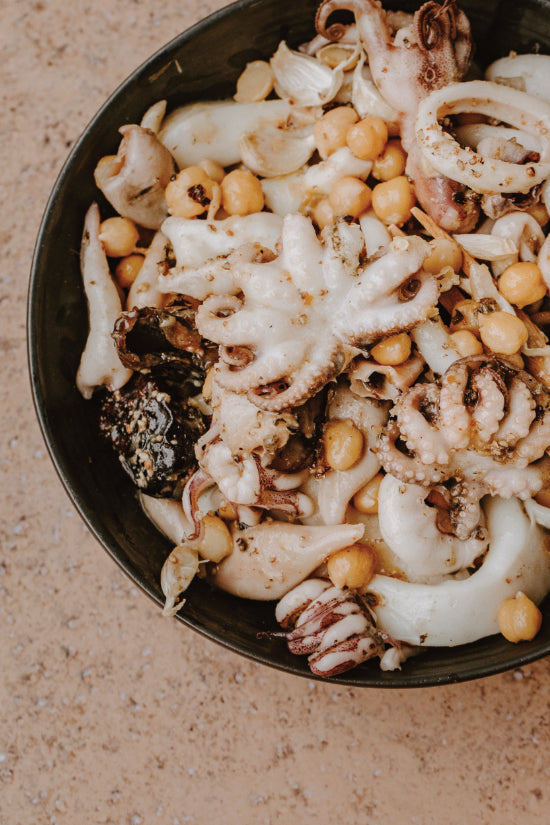 Fisch
Eine bunte Mischung aus Tintenfisch, in der Pfanne scharf angebraten, mit etwas Knoblauch und Zitrone, dazu Kichererbsen und unsere süßliche Dattelbutter. Simpel und lecker!