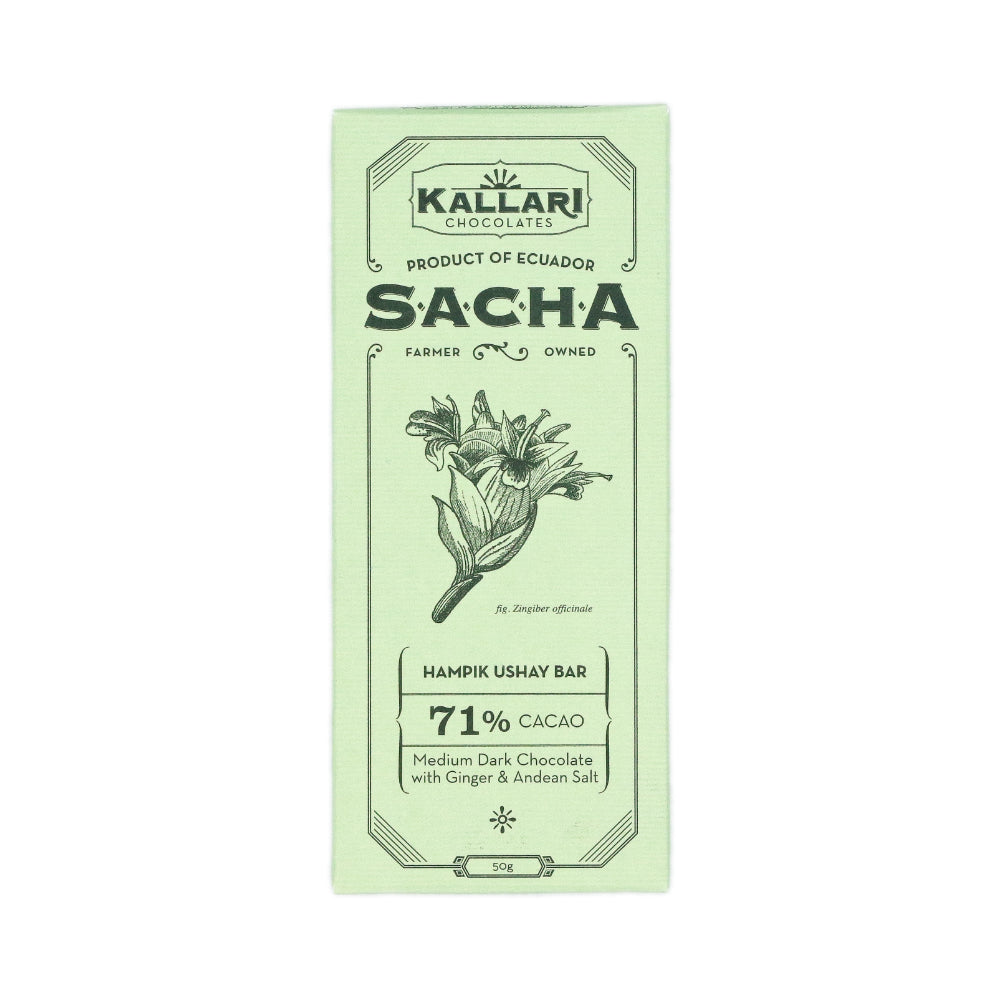 Schokolade "Kallari" 71% mit Ingwer & Andensalz
Lieferzeit: 3-5 Tage
Eine faszinierende Kombination aus Kakao, Ingwer und Andensalz
Diese besondere Schokolade mit einem Kakaoanteil von 71% vereint die Aromen von hochwertigem Kakao, würzigem Ingwer und Andensalz. Tauche ein in die Vielfalt der Geschmackserlebnisse und entdecke die harmonische Kombination von traditionellem Kakaoanbau und den natürlichen Zutaten aus den Chakras, den traditionellen Waldgärten der indigenen Kichwa in Ecuador.
Kallari - Eine Kooperative für nachhaltigen Kakaoanbau
Die Schokolade von "Kallari" stammt von einer Kleinbauernkooperative aus Kichwa-Familien im Amazonastiefland Ecuadors. Die Kichwa-Gemeinschaften bauen nicht nur traditionelle Kulturpflanzen und Kakao an, sondern auch den würzigen Ingwer, der gemeinsam mit dem Kakao in den Chakras wächst. Mit viel Liebe und Sorgfalt wird der Kakao von den Kichwa geerntet und später zu einer einzigartigen Schokolade verarbeitet. Durch den nachhaltigen und ökologischen Anbau in Einklang mit der Natur entsteht eine besondere Verbindung zwischen den indigenen Kichwa-Gemeinschaften und ihrem Land.
Die perfekte Balance - Kakao, Ingwer und Andensalz
Die Schokolade "Kallari" mit 71% Kakaoanteil, dem aromatischen Ingwer und dem einzigartigen Geschmack von Andensalz ist ein wahrer Gaumenschmaus. Jede Tafel erzählt eine Geschichte des traditionellen Anbaus und der Verbundenheit zur Natur. Der würzige Ingwer, der in den Chakras gemeinsam mit dem Kakao heranwächst, verleiht der Schokolade ein außergewöhnliches Aroma. Das Andensalz aus der Region rundet den Geschmack perfekt ab und sorgt für eine feine salzige Note. Die perfekte Balance zwischen Kakao, Ingwer und Andensalz entfaltet sich bei jedem Bissen und lässt dich die Vielfalt der Aromen erleben.
Lass dich von der harmonischen Verbindung des traditionellen Kakaoanbaus und der natürlichen Zutaten aus den Chakras der indigenen Kichwa in Ecuador begeistern. Genieße die perfekte Balance zwischen Kakao, Ingwer und Andensalz und erlebe ein Geschmackserlebnis, das dich auf eine kulinarische Reise entführt. Mit jeder Tafel unterstützt du nicht nur die nachhaltigen Anbau- und Verarbeitungsmethoden der Kichwa-Gemeinschaft, sondern auch den Erhalt ihrer Kultur und ihrer traditionellen Waldgärten.
Average nutritional values per 100g
Energy 2646 kj / 632 kcal
Fat
of which saturated fatty acids
Carbohydrates
of which sugar
Protein
Salt
Country of origin: Ecuador
Hauptspeisen
Mit dieser feinen Kartoffel-Lauch-Suppe stillt man an kalten Tagen das Bedürfnis nach einer wärmenden Mahlzeit. Das knusprig süße Dattel-Nuss-Topping verleiht dem herzhaften Suppen-Klassiker einen ...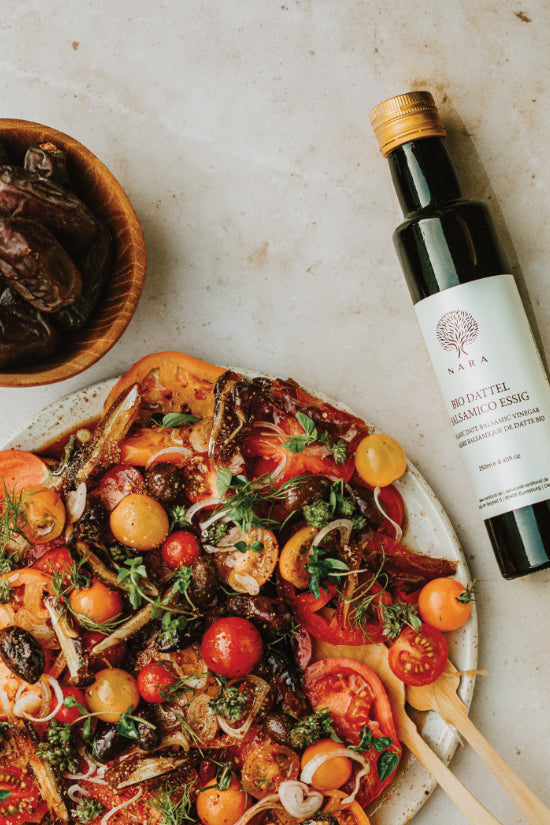 Hauptspeisen
Ein köstlicher Sommer-Salat mit sonnengereiften Tomaten, Kräutern, Oliven und feinem Dattel Dressing mit unserem Dattel-Balsamico-Essig.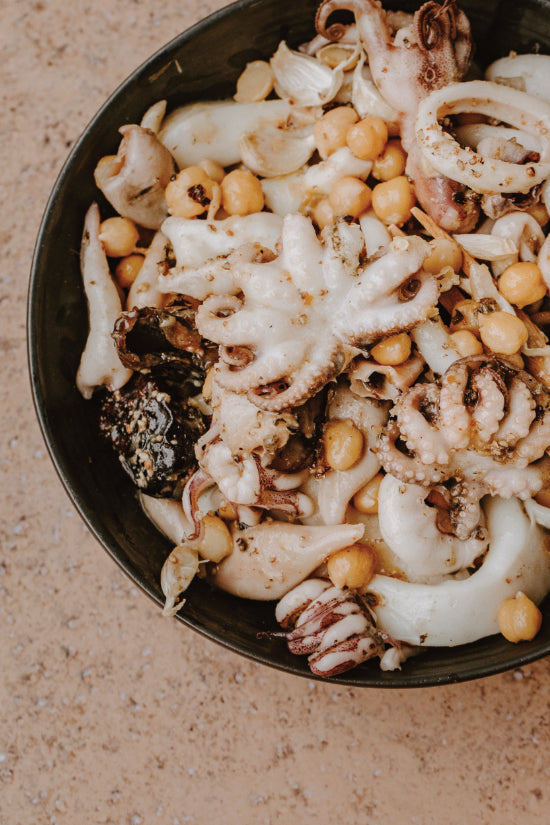 Fisch
Eine bunte Mischung aus Tintenfisch, in der Pfanne scharf angebraten, mit etwas Knoblauch und Zitrone, dazu Kichererbsen und unsere süßliche Dattelbutter. Simpel und lecker!