Schokolade "Kallari" mit 85% Kakao
Lieferzeit: 3-5 Tage
Entdecke die Schokolade "Kallari" mit 85% Kakao aus Ecuador
Willkommen in der Welt von "Kallari"! Diese Schokolade mit einem Kakaoanteil von 85% entführt dich auf eine geschmackliche Reise in das Amazonastiefland Ecuadors. Hier wird die Schokolade von indigenen Kichwa-Familien in traditionellen Waldgärten, den sogenannten "Chakras", angebaut. Tauche ein in die vielfältigen Aromen und den intensiven Geschmack dieser exquisiten Schokolade.
Die Geschichte von Kallari - Eine Kooperative der Kichwa-Familien
Die Schokolade "Kallari" stammt von der gleichnamigen Kleinbauernkooperative aus dem Amazonastiefland Ecuadors. Die Kooperative besteht aus Kichwa-Familien, die ihre traditionellen Kulturpflanzen und Kakao in nachhaltiger und ökologischer Weise anbauen. Für sie ist der Anbau von Kakao nicht nur eine wirtschaftliche Tätigkeit, sondern auch eine kulturelle Verbindung zur Natur und ihren Vorfahren. Durch den Kauf von "Kallari" unterstützt du direkt die indigenen Gemeinschaften und trägst zur Erhaltung ihrer traditionellen Lebensweise bei.
Die einzigartige Qualität der Kallari-Schokolade
Die Schokolade "Kallari" zeichnet sich durch ihre hohe Qualität und den intensiven Geschmack aus. Der Kakao wird von den indigenen Kichwa-Familien in den traditionellen Waldgärten angebaut und von Hand geerntet. Anschließend wird er schonend verarbeitet, um alle wertvollen Aromen und Nährstoffe zu bewahren. Das Ergebnis ist eine Schokolade mit einem intensiven Kakaoaroma und einem kräftigen Geschmack. Mit einem Kakaoanteil von 85% bietet sie ein unvergleichliches Genusserlebnis für Schokoladenliebhaber, die den starken und herben Geschmack von dunkler Schokolade bevorzugen.
Erlebe die harmonische Verbindung zwischen der reichen Kakaotradition der indigenen Kichwa-Familien und dem einzigartigen Geschmackserlebnis, das diese Schokolade bietet. Mit jedem Bissen unterstützt du nicht nur die nachhaltige Landwirtschaft, sondern auch den Erhalt der indigenen Kultur und ihrer traditionellen Lebensweise. Gönn dir eine Auszeit und lass dich von der Schokolade "Kallari" verführen.
Average nutritional values per 100g
Energy 2864 kj / 684 kcal
Fat
of which saturated fatty acids
Carbohydrates
of which sugar
Protein
Salt
Country of origin: Ecuador
Hauptspeisen
Mit dieser feinen Kartoffel-Lauch-Suppe stillt man an kalten Tagen das Bedürfnis nach einer wärmenden Mahlzeit. Das knusprig süße Dattel-Nuss-Topping verleiht dem herzhaften Suppen-Klassiker einen ...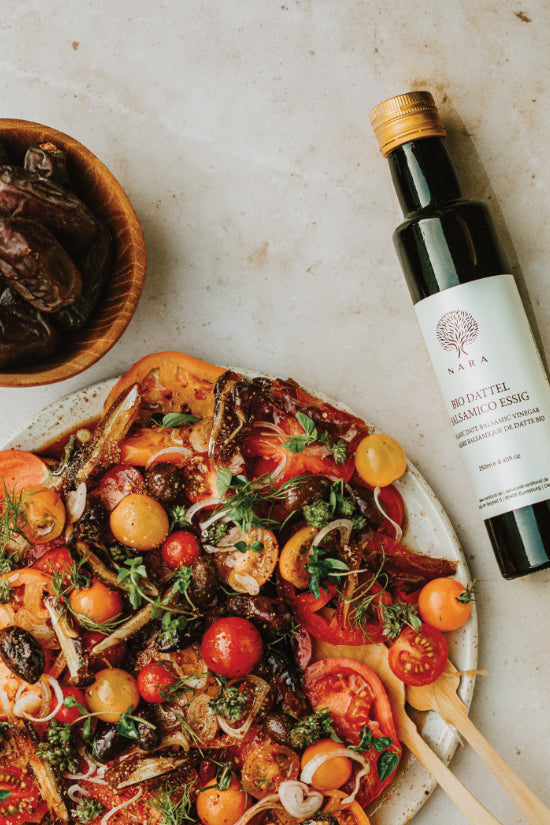 Hauptspeisen
Ein köstlicher Sommer-Salat mit sonnengereiften Tomaten, Kräutern, Oliven und feinem Dattel Dressing mit unserem Dattel-Balsamico-Essig.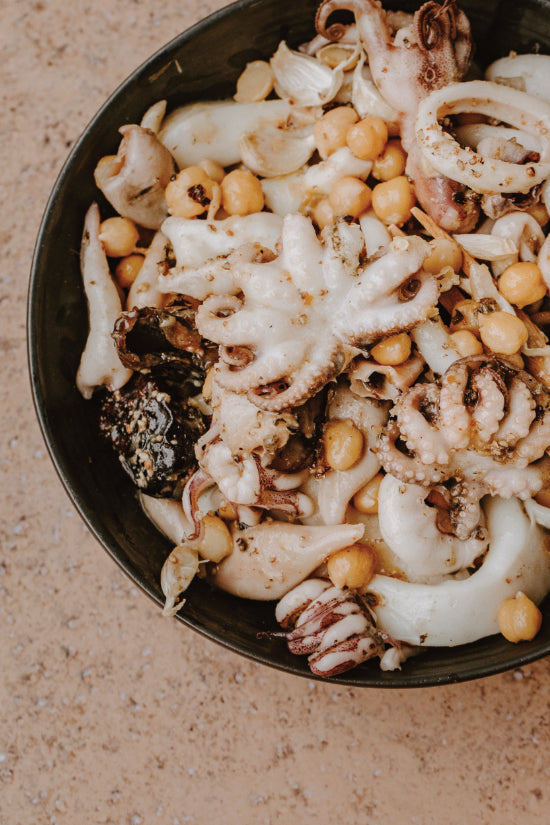 Fisch
Eine bunte Mischung aus Tintenfisch, in der Pfanne scharf angebraten, mit etwas Knoblauch und Zitrone, dazu Kichererbsen und unsere süßliche Dattelbutter. Simpel und lecker!