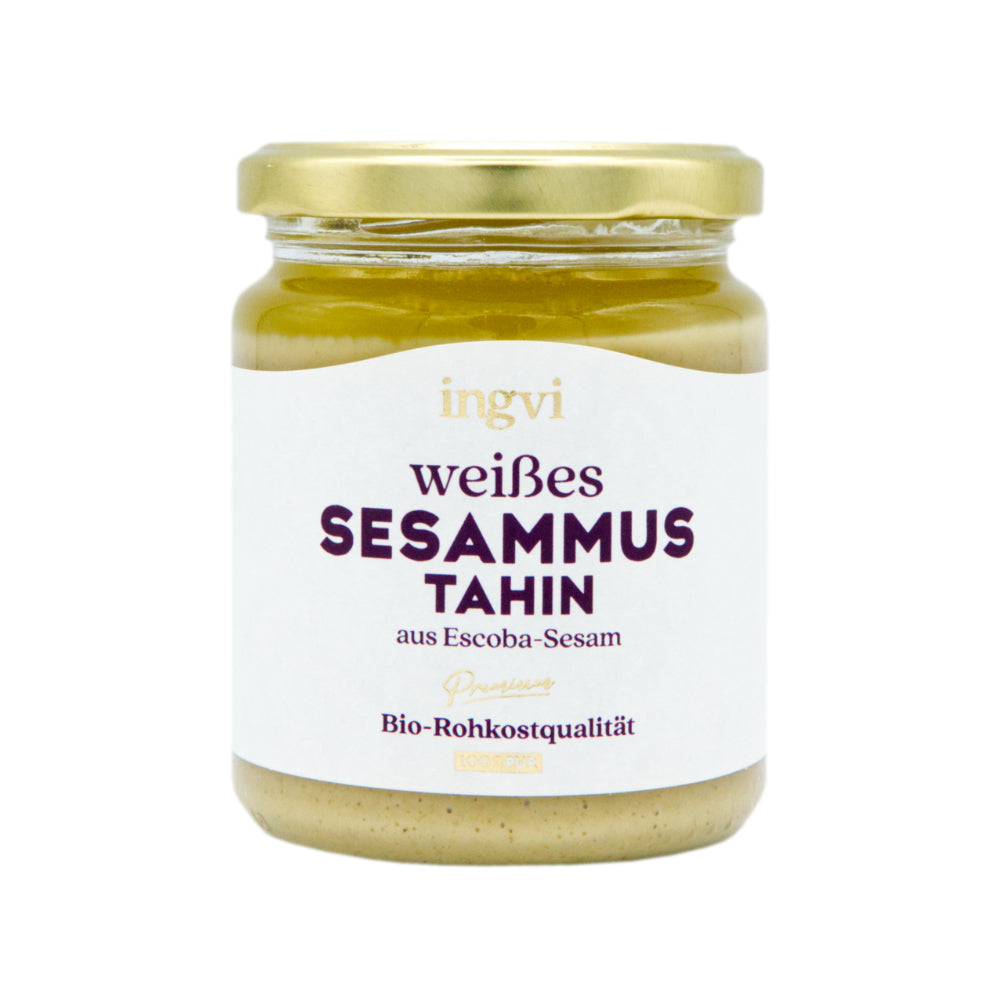 Sesammus "Tahin" weiß Bio, Rohkostqualität
Lieferzeit: 3-5 Tage
Weißes Sesammus: Natürlicher Genuss in bester Bio-Qualität
Unser Sesammus wird von der Firma ingvi hergestellt und zeichnet sich durch höchste Qualität aus – sowohl bei der Auswahl der Rohstoffe, als auch durch eine besonders schonende und sorgfältige Verarbeitung. Das weiße Sesammus wird auf speziellen Mühlen bei Temperaturen unter 40°C vermahlen, um die Rohkost-Qualität zu gewährleisten und sicherzustellen, dass alle wichtigen Nährstoffe erhalten bleiben.
Rohkost-Qualität für maximale Nährstoffe
Unser Sesammus wird mit großer Sorgfalt hergestellt, um sicherzustellen, dass alle wertvollen Nährstoffe intakt bleiben. Durch die Vermahlung auf speziellen Mühlen bei niedrigen Temperaturen wird die Rohkost-Qualität bewahrt. So bleiben die wertvollen Omega-3-Fettsäuren, Vitamine, Mineralstoffe und Antioxidantien des Sesams erhalten. Diese Nährstoffe tragen zur Unterstützung eines gesunden Herz-Kreislauf-Systems, einer starken Knochengesundheit und einer gesunden Haut bei. Mit unserem weißen Sesammus kannst du sicher sein, dass du alle wichtigen Nährstoffe auf natürliche Weise erhältst.
Verwendung von Sesammus in der mediterranen und orientalischen Küche
Sesammus, auch bekannt als Tahini, Tahina oder Tahin, ist eine beliebte Zutat in der mediterranen und orientalischen Küche. Sein intensiver und nussiger Geschmack verleiht vielen Gerichten eine besondere Note. Du kannst Sesammus als Basis für Hummus verwenden, indem du es mit Kichererbsen, Knoblauch, Zitronensaft und Gewürzen mischst. Es eignet sich auch hervorragend als Dressing für Salate, als Dip für Gemüsesticks oder als Würze für gegrilltes Fleisch oder Fisch. Sesammus kann auch zur Zubereitung von süßen Speisen wie Sesamkugeln oder als Zutat in Backwaren verwendet werden. Die vielfältigen Verwendungsmöglichkeiten von Sesammus machen es zu einer unverzichtbaren Zutat in der mediterranen und orientalischen Küche.
Entdecke den natürlichen und köstlichen Genuss
Mit unserem weißen Sesammus in bester Bio-Qualität kannst du den natürlichen und köstlichen Genuss der mediterranen und orientalischen Küche in vollen Zügen genießen. Bestelle dein Sesammus direkt online und entdecke die zahlreichen Möglichkeiten, wie du es in deiner Küche verwenden kannst. Lass dich von den intensiven Aromen und der cremigen Textur unseres Sesammuses verzaubern und erlebe die Vielfalt der mediterranen und orientalischen Küche auf eine neue und köstliche Art.
Average nutritional values per 100g
Energy 2613 kj / 633 kcal
Fat
of which saturated fatty acids
Carbohydrates
of which sugar
Protein
Salt
Country of origin: Bolivien
Hauptspeisen
Mit dieser feinen Kartoffel-Lauch-Suppe stillt man an kalten Tagen das Bedürfnis nach einer wärmenden Mahlzeit. Das knusprig süße Dattel-Nuss-Topping verleiht dem herzhaften Suppen-Klassiker einen ...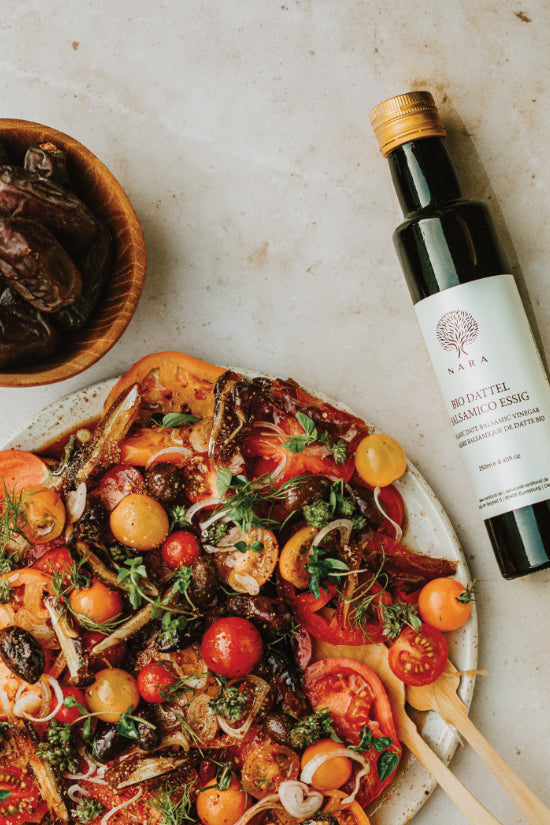 Hauptspeisen
Ein köstlicher Sommer-Salat mit sonnengereiften Tomaten, Kräutern, Oliven und feinem Dattel Dressing mit unserem Dattel-Balsamico-Essig.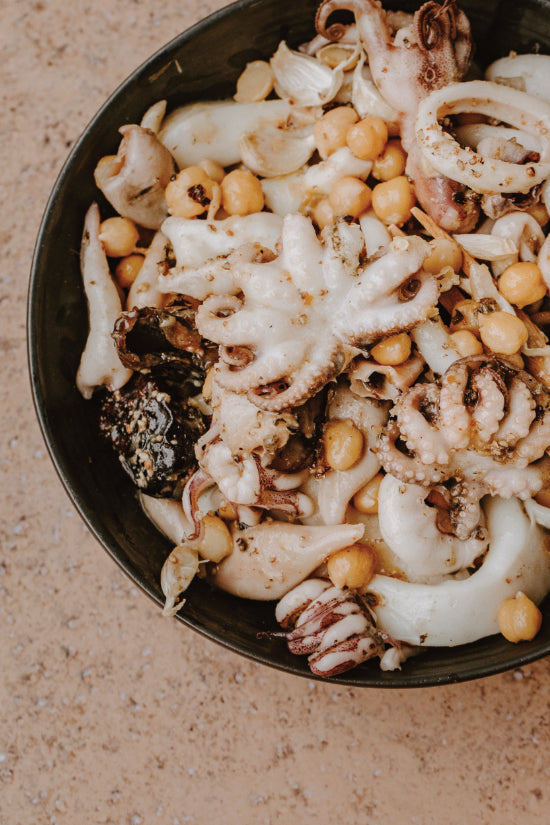 Fisch
Eine bunte Mischung aus Tintenfisch, in der Pfanne scharf angebraten, mit etwas Knoblauch und Zitrone, dazu Kichererbsen und unsere süßliche Dattelbutter. Simpel und lecker!