Wilde Kakaonibs in Bio-Qualität: Genuss aus den Wäldern Boliviens
Unsere Kakaobohnen stammen aus den unberührten Wäldern Boliviens, wo sie in einer nachhaltigen Wildsammlung gewonnen werden. Dies bedeutet, dass sie nicht angebaut, sondern von Hand in ihrer natürlichen Umgebung geerntet werden. Wir achten auf den Erhalt der Artenvielfalt und die Unterstützung der lokalen Gemeinschaften. Tauche ein in den einzigartigen Geschmack und das unverwechselbare Aroma dieser wilden Kakaonibs.
Schonend geröstet und grob geschrotet
Unsere wilden Kakaonibs werden sorgfältig verarbeitet, um ihr Aroma zu intensivieren. Die Kakaobohnen werden schonend geröstet, wodurch sich ihre natürlichen Aromen entfalten. Anschließend werden sie grob zu Nibs geschrotet. Dieser Prozess bewahrt die wertvollen Inhaltsstoffe der Kakaobohnen und gibt den Kakaonibs ihre einzigartig knusprige Textur und ihren unverwechselbaren Geschmack.
Vielseitig verwendbar: das perfekte Topping
Die wilden Kakaonibs sind äußerst vielseitig in der Küche einsetzbar. Sie eignen sich hervorragend als Topping für Müslis, Joghurts, Smoothie Bowls und vieles mehr. Streue eine Handvoll dieser knackigen Nibs über dein Frühstück und genieße den köstlichen Geschmack und die angenehme Textur. Die wilden Kakaonibs verleihen deinen Kreationen einen Hauch von Schokolade und sorgen für ein einzigartiges Geschmackserlebnis. Kreiere deine eigenen kulinarischen Meisterwerke und lasse dich von den wilden Kakaonibs inspirieren.
Unser Tipp: Genieße wilde Kakaonibs in Kombination mit Datteln und Nussmus
Ein besonderer Genussmoment entsteht, wenn du unsere wilden Kakaonibs mit Datteln und Nussmus kombinierst. Die zartbittere Note der Kakaonibs harmoniert perfekt mit der cremigen Konsistenz von Nussmusen und der natürlichen Süße der Datteln. Kombiniere sie zu einer köstlichen Nascherei, die nicht nur lecker, sondern auch nährstoffreich ist. Ob als Snack für zwischendurch oder als besonderes Highlight beim Genuss von süßen Leckereien - die Kombination von wilden Kakaonibs, Nussmusen und Datteln wird dich begeistern. Wir empfehlen dafür vor allem ein mildes Cashewmus oder weißes Mandelmus.
Erlebe den einzigartigen Geschmack und das intensive Aroma der wilden Kakaonibs aus den Wäldern Boliviens. Lasse dich von ihrer Natürlichkeit und ihrem unverwechselbaren Geschmack verzaubern und kreiere kulinarische Meisterwerke mit einem Hauch von Wildnis.
Average nutritional values per 100g
Energy
Fat
of which saturated fatty acids
Carbohydrates
of which sugar
Protein
Salt
Country of origin: Bolivien
Hauptspeisen
Mit dieser feinen Kartoffel-Lauch-Suppe stillt man an kalten Tagen das Bedürfnis nach einer wärmenden Mahlzeit. Das knusprig süße Dattel-Nuss-Topping verleiht dem herzhaften Suppen-Klassiker einen ...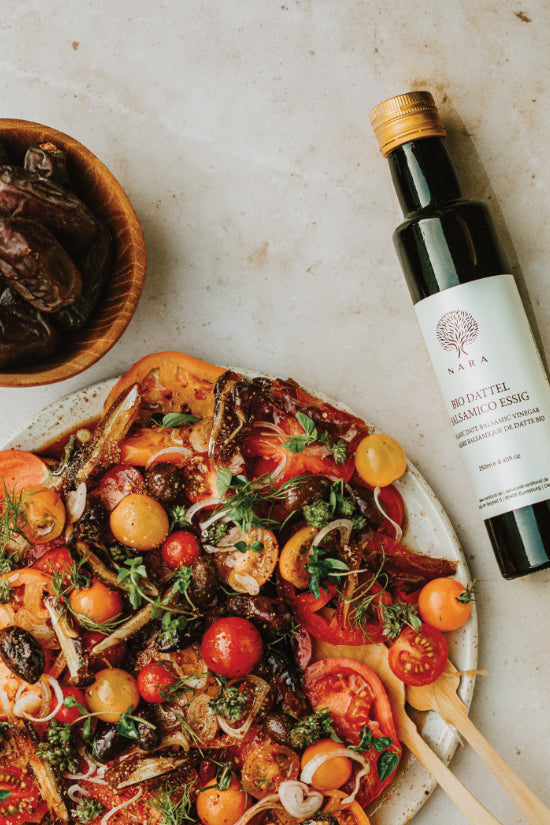 Hauptspeisen
Ein köstlicher Sommer-Salat mit sonnengereiften Tomaten, Kräutern, Oliven und feinem Dattel Dressing mit unserem Dattel-Balsamico-Essig.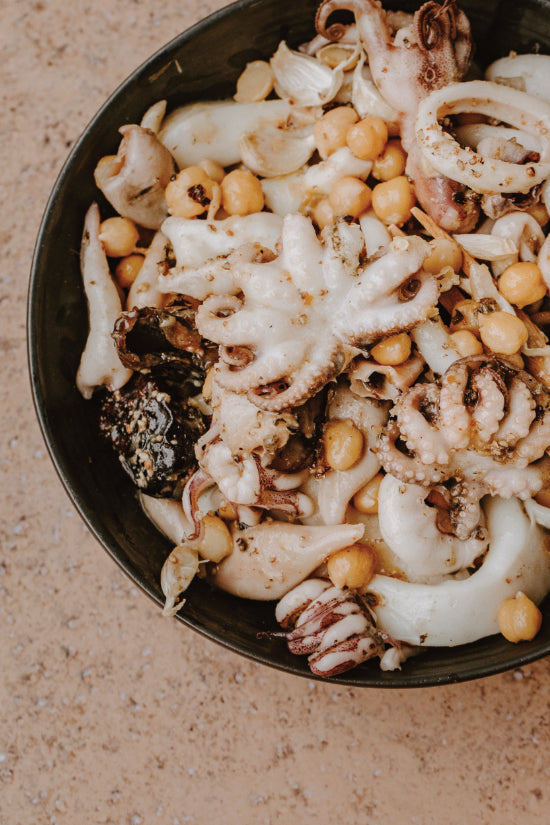 Fisch
Eine bunte Mischung aus Tintenfisch, in der Pfanne scharf angebraten, mit etwas Knoblauch und Zitrone, dazu Kichererbsen und unsere süßliche Dattelbutter. Simpel und lecker!