Date and coconut - A wonderful combination: date coconut cream
Two simple ingredients. Date and coconut. That's all it takes to sweeten your day. Our Date Coconut Cream contains only dates and coconut oil, and that's it. No added sugar, no spices, no emulsifiers and no preservatives. Once you've tasted it, you won't understand what on earth all those sweet spreads on supermarket shelves need more than two ingredients for. So round, so sweet, so full of coconut tastes date coconut cream. This is a purist celebration of indulgence and simplicity.
For date coconut cream we go to the palm of our hand
It would be a shame if we didn't let a tropical-sweet delicacy like this put us on our palms with pleasure. After all, our ingredients only grow on palm trees - both the juicy Mazafati organic dates from the Arabian Peninsula and the fresh coconuts for the aromatic coconut oil. As in all our specialties, we use only organically grown ingredients for the Date Coconut Paste, because the health of people and nature is a matter close to our hearts.
Clean Eating with Date Coconut Paste
Pure, natural and without milk and added sugar: this is how good food is sustainable. Moreover, dates and coconut oil are united by their digestion-friendly properties. This means that the date coconut cream is not heavy on the stomach, as is the case with many sweet creams and spreads. This predestines it for a permanent place in the lunch boxes of schoolchildren, students and office workers, but also inspires athletes and people who want to lose weight without giving up sweets. Coconut oil in particular also enjoys a reputation as an antimicrobial, antiviral and antifungal food, which is why it is sometimes referred to as a superfood. In Ayurvedic dietary guidelines, for example, coconut oil is recommended for oil pulling, which is said to lead to a healthy flora of the oral cavity and intestines. Dates, on the other hand, are considered rich in essential nutrients, potassium, fiber and trace elements. They are attributed a long list of positive properties for health. Basically, however, it is not only reason that decides on a product, but above all the palate, which is quickly affected after a spoonful of creamy-sweet, melt-in-the-mouth date coconut paste.
Unlimited use for all occasions
If you have a jar of delicious coconut paste in front of you, the first thing that comes to mind is probably its use as a healthy spread. In fact, our date coconut cream looks great on fluffy light rolls, for example for a French breakfast on croissants or on baguettes. But thanks to its full-bodied taste, it also doesn't go down well on grainy wholemeal bread, but complements the typical spiciness of dark bread. To stay with breakfast, date coconut cream can also help any simple muesli and porridge with its full sweetness and a tropical touch. The same goes for using it in homemade healthy snacks like energy balls or fruit bars, in cakes and cookies, in desserts and smoothies. Everywhere, Date Coconut Cream kills two birds with one stone: needed sweetness and more than a hint of delicious coconut flavor to give it direction. As a crowning achievement in clean eating or even vegan cooking, date coconut cream fills the inside of lush, fruity cakes, for example, instead of the infamous buttercream. But let's be honest: actually, half of the jar is already spooned out before you've even given much thought to choosing from all the exciting recipe ideas.
One dolce vita in healthy, please
Lush and full of flavor like peanut butter, melt-in-your-mouth creamy and sweet - date coconut cream leaves nothing to be desired. By the way, if you prefer chocolate instead of coconut, we highly recommend our date chocolate cream. With the date coconut paste, however, you have the concentrated sun and warmth of the south, the best of desert and beach.
You rather love it pure? With us you can buy the best dates online!
Average nutritional values per 100g
Energy 1284 kj / 307 kcal
Fat
of which saturated fatty acids
Carbohydrates
of which sugar
Protein
Salt
Country of origin: Deutschland
Lecker
Sehr lecker, Konsistenz könnte vielleicht etwas cremiger sein. Geschmacklich top
Hauptspeisen
Mit dieser feinen Kartoffel-Lauch-Suppe stillt man an kalten Tagen das Bedürfnis nach einer wärmenden Mahlzeit. Das knusprig süße Dattel-Nuss-Topping verleiht dem herzhaften Suppen-Klassiker einen ...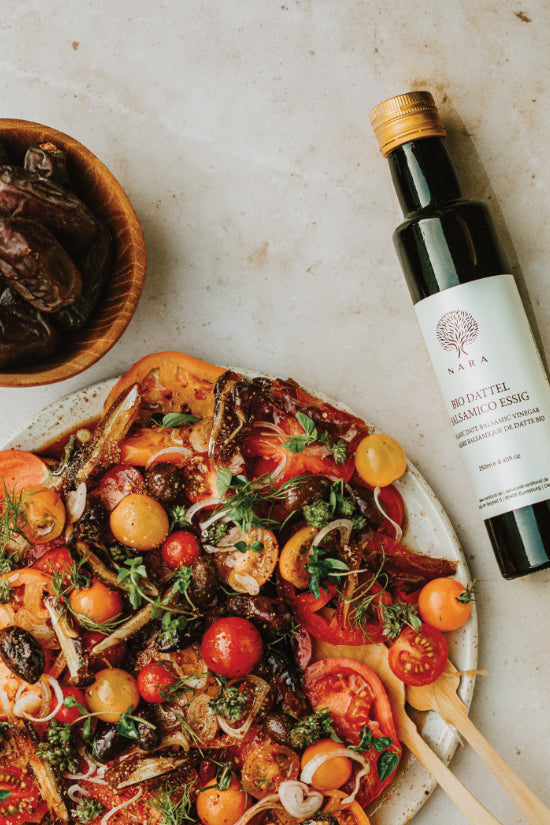 Hauptspeisen
Ein köstlicher Sommer-Salat mit sonnengereiften Tomaten, Kräutern, Oliven und feinem Dattel Dressing mit unserem Dattel-Balsamico-Essig.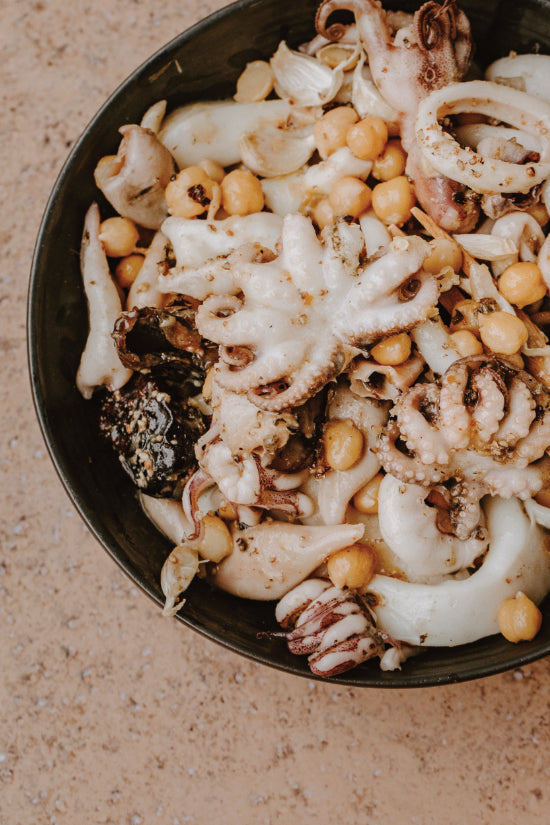 Fisch
Eine bunte Mischung aus Tintenfisch, in der Pfanne scharf angebraten, mit etwas Knoblauch und Zitrone, dazu Kichererbsen und unsere süßliche Dattelbutter. Simpel und lecker!