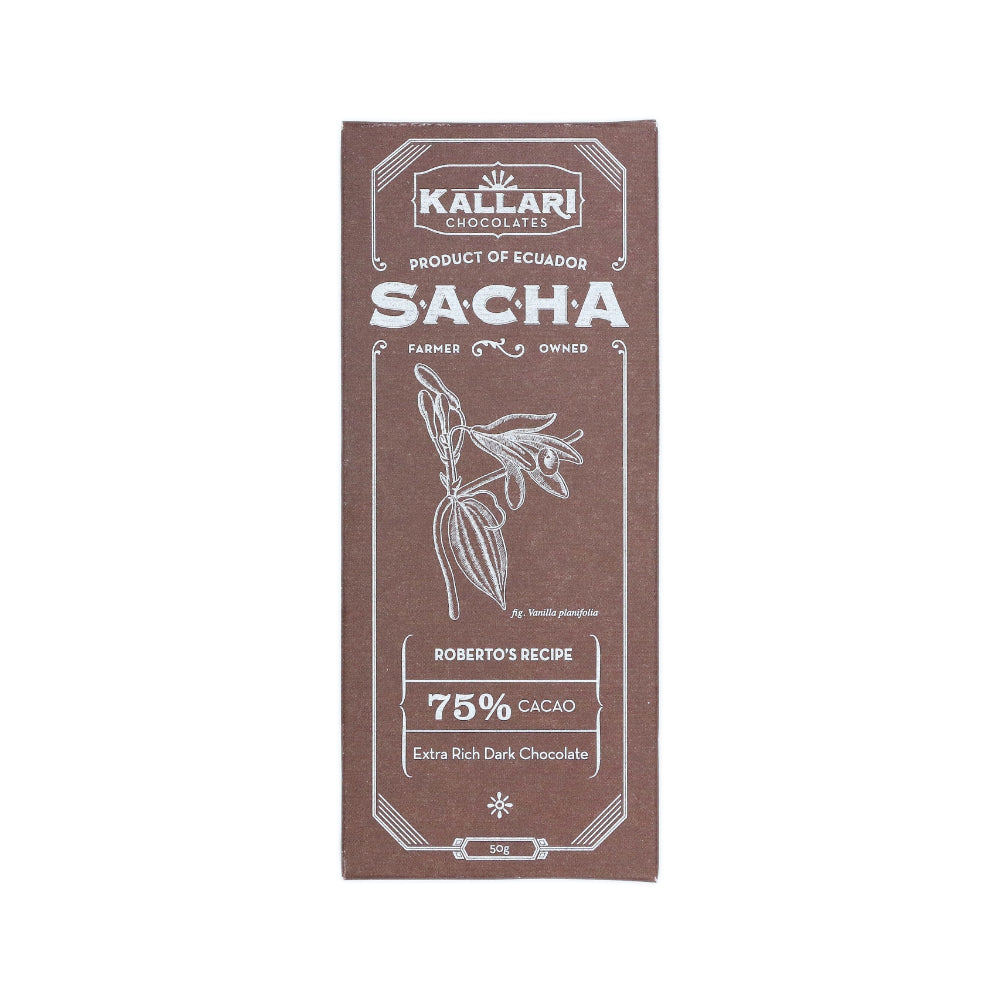 Schokolade "Kallari" mit 75% Kakao
Lieferzeit: 3-5 Tage
Die Schokolade "Kallari" - Ein Geschmackserlebnis aus Ecuador
Diese exquisite Schokolade mit einem Kakaoanteil von 75% stammt aus Ecuador, wo sie von indigenen Kichwa-Gemeinschaften in traditionellen Waldgärten, den "Chakras", angebaut wird. Tauche ein in die faszinierende Geschichte und die reiche Kakaotradition dieses Landes, während du den köstlichen Geschmack von "Kallari" genießt.
Kallari - Eine Kleinbauernkooperative mit einer nachhaltigen Vision
Die Schokolade von "Kallari" wird von einer Kleinbauernkooperative aus Kichwa-Familien im Amazonastiefland Ecuadors hergestellt. Diese engagierten Menschen bauen in nachhaltiger und ökologischer Weise traditionelle Kulturpflanzen und Kakao an, primär zur Eigenversorgung. Mit viel Liebe und Respekt für die Natur bewirtschaften sie ihre Felder und erhalten dabei die reiche Biodiversität ihrer Umgebung. Durch den Kauf von "Kallari" unterstützt du nicht nur die Kleinbauern, sondern auch ihre Vision einer nachhaltigen Landwirtschaft.
Roberto's Recipe - Die Perfektion des Geschmacks
Die Schokolade "Kallari" mit 75% Kakaoanteil wurde nach einem einzigartigen Rezept kreiert, das vom renommierten Chocolatier Robert Steinberg empfohlen wurde. Sein Know-how und seine Leidenschaft für Schokolade spiegeln sich in jedem Stück "Kallari" wider. Die sorgfältig ausgewählten Kakaobohnen und die meisterhafte Verarbeitung verleihen dieser Schokolade ihren unvergleichlichen Geschmack. Genieße den intensiven Kakaoaroma, die angenehme Bitterkeit und die feine Balance zwischen Süße und Würze. "Kallari" lässt dich die wahre Essenz des Kakaos entdecken und bietet ein Geschmackserlebnis, das dich verzaubern wird.
Erlebe die magische Verbindung zwischen indigener Tradition, nachhaltiger Landwirtschaft und exquisitem Geschmack mit der Schokolade "Kallari" mit 75% Kakaoanteil. Jedes Stück ist nicht nur ein Genuss für die Sinne, sondern auch ein Zeichen der Unterstützung für die Kleinbauern und ihre nachhaltige Lebensweise. Lass dich von der harmonischen Komposition aus Kakao und Leidenschaft verführen und erlebe einen Moment der puren Freude mit "Kallari" - Schokolade, die Herzen verzaubert.
Average nutritional values per 100g
Energy 2747 kj / 656 kcal
Fat
of which saturated fatty acids
Carbohydrates
of which sugar
Protein
Salt
Country of origin: Ecuador
Hauptspeisen
Mit dieser feinen Kartoffel-Lauch-Suppe stillt man an kalten Tagen das Bedürfnis nach einer wärmenden Mahlzeit. Das knusprig süße Dattel-Nuss-Topping verleiht dem herzhaften Suppen-Klassiker einen ...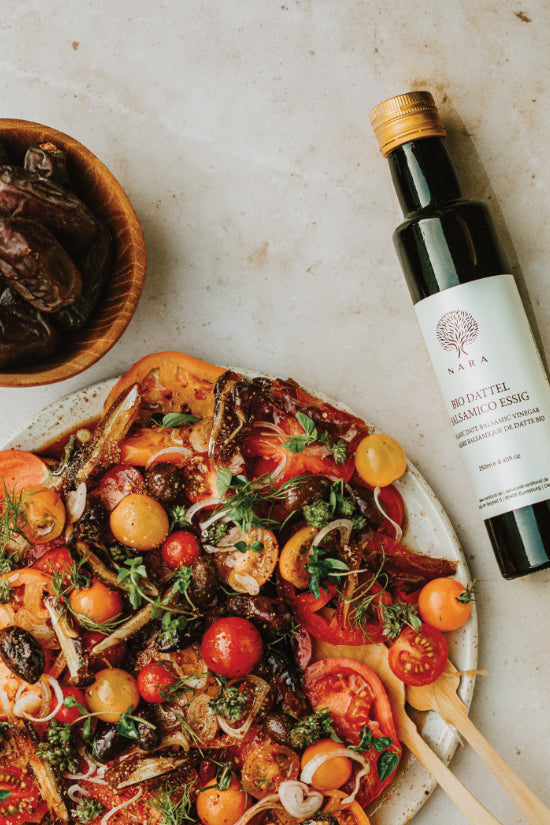 Hauptspeisen
Ein köstlicher Sommer-Salat mit sonnengereiften Tomaten, Kräutern, Oliven und feinem Dattel Dressing mit unserem Dattel-Balsamico-Essig.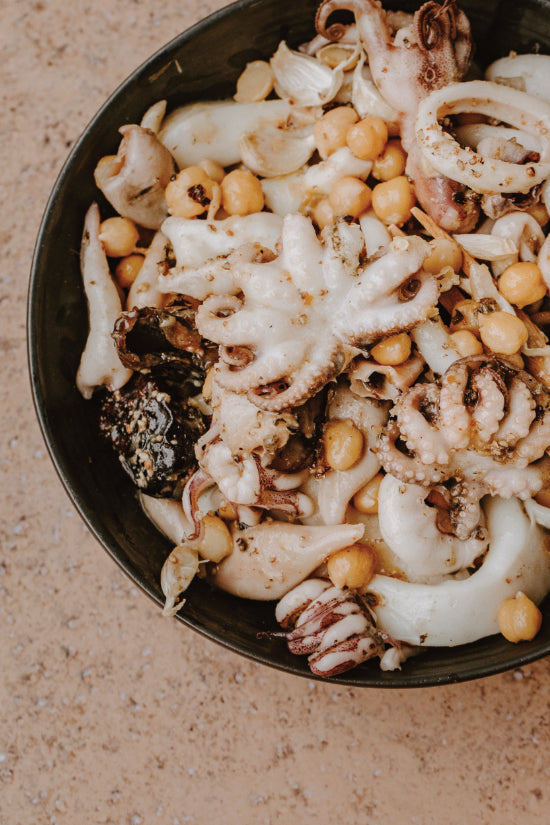 Fisch
Eine bunte Mischung aus Tintenfisch, in der Pfanne scharf angebraten, mit etwas Knoblauch und Zitrone, dazu Kichererbsen und unsere süßliche Dattelbutter. Simpel und lecker!