Discover date variety with our date tasting package No. 1
For the Date Tasting Pack No. 1 we have put together four of our favorite date varieties from different regions of the world. Packaged in a beautiful box, the date tasting pack is perfect for giving as a gift, but also for anyone who would like to try a selection of different dates to see which one suits their personal preferences.
The following dates are included in the tasting pack:
≈100g Mazafati organic dates.
≈100g Medjool Premium Organic Dates
≈100g Deglet Nour Organic Demeter Dates
≈100g Sukkari Organic Dates.
All four varieties are fresh dates. That is, they were harvested at the time of first ripeness and packed directly. Due to the higher moisture content, fresh dates must be kept refrigerated. This ensures that the dates have a long shelf life and do not dry out. The ideal temperature is four degrees in the refrigerator. The particularly fleshy and juicy flesh of fresh dates is a luxury of our time, because traditionally fresh dates were only available for a very short time directly after harvesting.
The following varieties await you in our date tasting package No. 1
The Mazafati organic dates are small and roundish, dark to almost black and with fine, particularly creamy flesh. They thrive at an altitude of over 1000m on the edge of the Dasht-e-Lut desert in southeastern Iran. Thanks to the exceptional climatic conditions that prevail there, the flesh of this date is so tender. Our Mazafati Organic Dates come from a permaculture plantation where the forces of nature are wisely used to keep the fruit healthy. They grow there in a functioning ecosystem together with citrus trees, lupines and other plants that support each other. For example, the citrus trees help keep insects and bugs away from the dates.
Deglet Nour organic dates are characterized by an elongated shape, their golden color and a honey-like, nutty flavor. The flesh of the Deglet Nour is juicy and yet somewhat firmer, which is why it is ideal to refine, for example, the muesli in the morning. Our Deglet Nour dates from Tunisia come from sustainable agriculture from Demeter certified farms. There, the date palms are grown in compliance with biodynamic guidelines and their fruits are harvested untreated.
Medjool organic dates are also known as the king dates. The Medjool is large, fleshy and particularly fruity. In salads as well as in warm dishes they refine the taste with a pleasant sweetness and a cinnamony note. Our Medjool organic dates are wonderful with coffee and tea or as a small snack in between meals.
Sukkari organic dates are tasty and soft. The sugar-sweet fruits have a fine nutty aroma and the subtle taste of caramel. In the tea and coffee houses of the Arab world, these dates are very popular as a sugar substitute. While the fructose crystals slowly dissolve in a hot drink, the dates add a particularly fine note to both coffee and tea.
Average nutritional values per 100g
Energy 1159 kj / 278 kcal
Fat
of which saturated fatty acids
Carbohydrates
of which sugar
Protein
Salt
Weltbeste Datteln
Wir kannten bisher nur die Datteln aus dem Supermarkt, sind dann aber auf Nara Foid gekommen.
Die Datteln sind kein Vergleich zu denen aus dem Supermarkt.
Geschmacksexplosionen pur! Man muss es einfach probieren.
Mega
Die Datteln sind jedes Mal sehr, sehr lecker, so das ich sie schon besorge um zu verschenken 😋
Die besten Datteln die ich bisher probieren durfte <3 super soft und voller liebe
Hauptspeisen
Mit dieser feinen Kartoffel-Lauch-Suppe stillt man an kalten Tagen das Bedürfnis nach einer wärmenden Mahlzeit. Das knusprig süße Dattel-Nuss-Topping verleiht dem herzhaften Suppen-Klassiker einen ...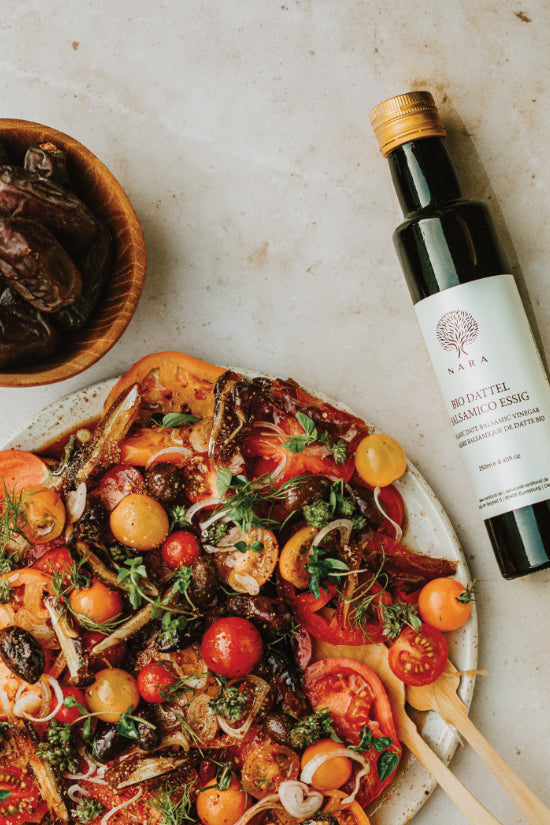 Hauptspeisen
Ein köstlicher Sommer-Salat mit sonnengereiften Tomaten, Kräutern, Oliven und feinem Dattel Dressing mit unserem Dattel-Balsamico-Essig.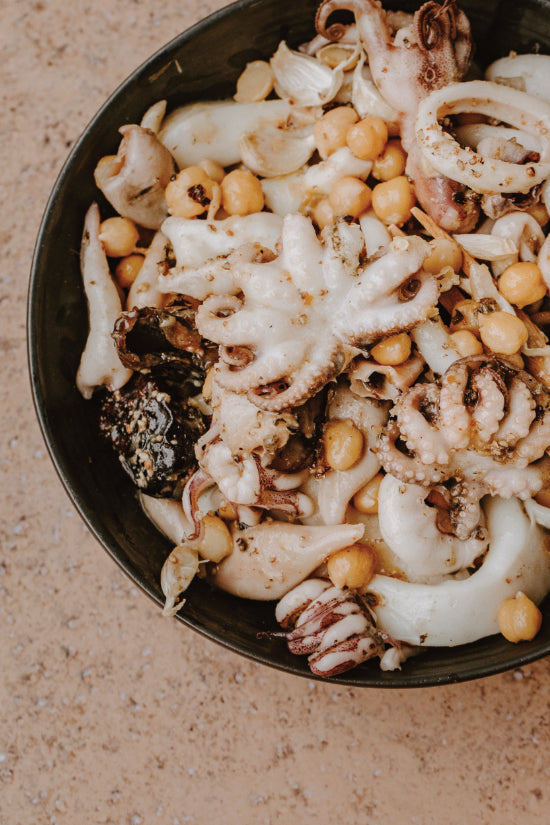 Fisch
Eine bunte Mischung aus Tintenfisch, in der Pfanne scharf angebraten, mit etwas Knoblauch und Zitrone, dazu Kichererbsen und unsere süßliche Dattelbutter. Simpel und lecker!