Discover the taste variety of dates with our date tasting package No. 2
In our date package No.2 you will find four fine date varieties from Saudi Arabia. While in this country we know mainly the fleshy-sweet Medjool from Israel or the small, nutty Deglet Nour from the North African date cultivation, Saudi fruits are rarely found. We've put together a selection of dates in this tasting pack, with flavors ranging from spicy and aromatic to raisiny-sweet to mild and cinnamony: Ajwa, with its deep black skin, is the most striking variety of the date quartet. It also stands out from the others in terms of taste, as it is hardly sweet but has a very aromatic spiciness. The Wanan, also dark, but much larger and fleshier, is pleasantly mild in taste and has delicate notes of cinnamon and cocoa. The khidri, whose soft flesh is reminiscent of raisins, is chestnut-colored. The Kholas, the fourth date in the bunch, tastes similar to caramel-sweet toffee or fudge.
All our dates come from controlled organic cultivation. It is especially important to us to think holistically sustainable! It is very important to us to maintain personal contact with our farmers, to support fair working conditions throughout, to promote good with our actions and to make a positive contribution to the future.
The following date varieties are included in our date tasting package No. 2:

≈100g Ajwa organic dates.
≈100g Khidri Organic Dates
≈100g Kholas Organic Dates
≈100g Wanan Organic Dates
All four varieties are fresh to semi-dried dates. That is, they were harvested at the time of first ripeness and packed directly. Due to the higher moisture content, fresh dates must be kept refrigerated. This ensures that the dates have a long shelf life and do not dry out. The ideal temperature is four degrees in the refrigerator. The particularly fleshy and juicy flesh of fresh dates is a luxury of our time, because traditionally fresh dates were only available for a very short time directly after harvesting.
This is what the date tasting package No. 2 tastes like
Ajwa organic dates come from nutrient-rich volcanic fields near Al-Medina - after Mecca, this is the holiest place in Islam.The deep black color is characteristic of the date. Compared to other date varieties, it has little flesh, but it is very aromatic. Traditionally, during Ramadan, the daily fast is broken with a glass of water and three Ajwa dates.
Khidri organic dates convince by their fine, sweetish taste, which reminds a little of raisins and has a delicious caramel note in the aftertaste. A dark, chestnut-red shimmering skin surrounds the flesh of the fine date, which originally comes from Egypt. Khidri is best enjoyed at room temperature - this way the fruit is particularly tender and can develop its full aroma.
Kholas organic dates have a honey-yellow to golden-brown color and a gentle, pleasant sweetness. The firm to the bite flesh is soft and juicy. The taste of the Kholas date with its fine caramel aromas is reminiscent of toffee or fudge and is therefore often served as a dessert. But it is equally suitable as a snack for in between and provides the body with nutrients and energy.
Wanan organic dates are long, cone-shaped and have an exceptionally dark color. The soft, luscious flesh of this variety, which is still not very common outside the Arab world, tastes slightly cinnamony and has a mild sweetness. In addition to pure enjoyment, the date is therefore also ideal for stuffing, for example with walnuts, candied ginger or goat cheese.
Average nutritional values per 100g
Energy 1278 kj / 306 kcal
Fat
of which saturated fatty acids
Carbohydrates
of which sugar
Protein
Salt
Einfach nur super Lecker
Wir kannten bis vor einem halben Jahr nur die Datteln aus dem Supermarkt... dann sind wir auf Narafood gestoßen. Wir lieben die Datteln es ist soo schwer sich für eine Sorte zu entscheiden:-)
Empfehlung
Sowohl Probierpaket No. 2 als auch Probierpaket No. 1 sind super lecker.
Die Qualität hervorragend.
Ich war erstaunt, wie unterschiedlich die einzelnen Sorten schmecken.
Die Idee des Probierpaketes finde ich genial.
Die Aufmachung und Verpackung sind sehr ansprechend und
die Lieferung war super schnell.
Kann ich nur empfehlen.
Eine tolle Auswahl
2 unterschiedliche, sehr leckere, Probierpakete bestellt.
Empfehlung: nicht gleich alle auf einmal probieren… sonst Zuckerschock 😉
Tolle informative Beschreibung der unterschiedlichen Datteln. Super lecker!!
Hauptspeisen
Mit dieser feinen Kartoffel-Lauch-Suppe stillt man an kalten Tagen das Bedürfnis nach einer wärmenden Mahlzeit. Das knusprig süße Dattel-Nuss-Topping verleiht dem herzhaften Suppen-Klassiker einen ...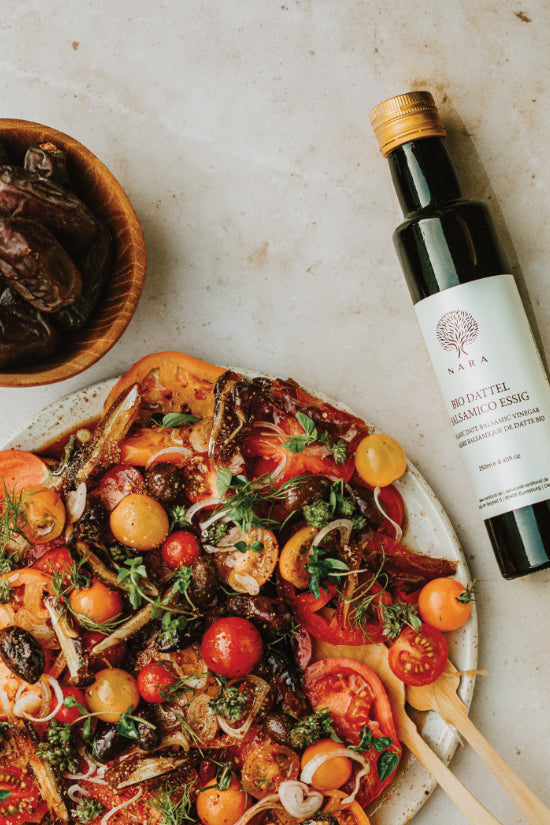 Hauptspeisen
Ein köstlicher Sommer-Salat mit sonnengereiften Tomaten, Kräutern, Oliven und feinem Dattel Dressing mit unserem Dattel-Balsamico-Essig.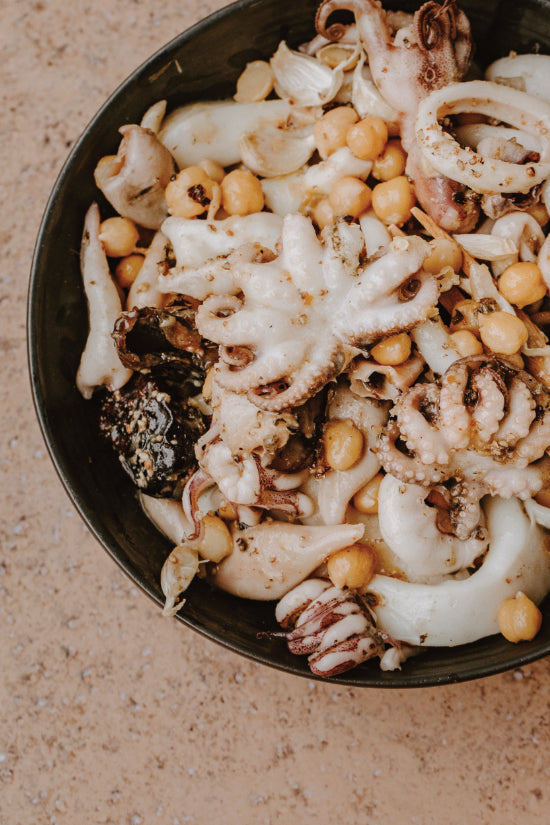 Fisch
Eine bunte Mischung aus Tintenfisch, in der Pfanne scharf angebraten, mit etwas Knoblauch und Zitrone, dazu Kichererbsen und unsere süßliche Dattelbutter. Simpel und lecker!