Dried figs - Natural and organic quality.
Our dried figs are natural and untreated. They are carefully harvested in best organic quality and gently dried to preserve their valuable ingredients and their natural taste. Learn more about the fascinating properties of this delicious fruit and how you can use them in your kitchen.
What's in dried figs?

Dried figs are not only delicious, but also rich in valuable nutrients. They contain:
Dietary fiber: figs are an excellent source of dietary fiber, which aids digestion and ensures healthy bowel function.

Antioxidants: they contain a variety of antioxidants that help fight harmful free radicals and protect the body from oxidative stress.

Minerals: Dried figs contain minerals such as potassium, magnesium and iron, which are important for heart health, muscle and nerve function, and blood formation.

Vitamins: They provide several vitamins, including vitamin A, vitamin K and several B vitamins, which help maintain a healthy body.
Origin and cultivation of figs - A Mediterranean delicacy
Figs have been an important fruit in Mediterranean cuisine for thousands of years. They are grown in many regions of the world, including:
Mediterranean: figs originated in the Mediterranean region and have long been an important part of culinary tradition there.

Turkey: Turkey is one of the largest producers of figs in the world. Here they are grown in different regions of the country.

Greece: Greece is also known for the cultivation of figs. The Mediterranean climate is ideal for the growth and ripening of this delicious fruit.
Creative uses in the kitchen
Dried figs are extremely versatile in the kitchen. Here are some ideas on how you can use them:
Snack: Just enjoy dried figs plain as a healthy snack in between meals. They are a natural source of energy and provide long-lasting satiety.

Baking: Use them as an ingredient in baking recipes such as cakes, bread or cookies. The natural sweetness of figs adds a delicious flavor to baked goods.

Salads: Cut the dried figs into small pieces and add them to your green salad or fruit salad. They add a sweet and crunchy component to the salad.

Desserts: use them as a topping for ice cream, yogurt or pudding. The sweet and slightly sticky texture of figs adds a special touch to desserts.

Stuffed figs: Fill dried figs with nuts, cheese or cream cheese and serve as an appetizer or snack. The combination of sweet and savory is simply delicious.
Conclusion: dried figs are a true superfood!
Dried figs are a wonderful addition to a healthy and varied diet. In the best organic quality, they not only offer a unique taste, but are also rich in valuable nutrients. Whether as a snack, ingredient in baking recipes or as an addition to salads and desserts - the uses in the kitchen are many.
Average nutritional values per 100g
Energy 1402 kj / 335 kcal
Fat
of which saturated fatty acids
Carbohydrates
of which sugar
Protein
Salt
Country of origin: Türkei
Hauptspeisen
Mit dieser feinen Kartoffel-Lauch-Suppe stillt man an kalten Tagen das Bedürfnis nach einer wärmenden Mahlzeit. Das knusprig süße Dattel-Nuss-Topping verleiht dem herzhaften Suppen-Klassiker einen ...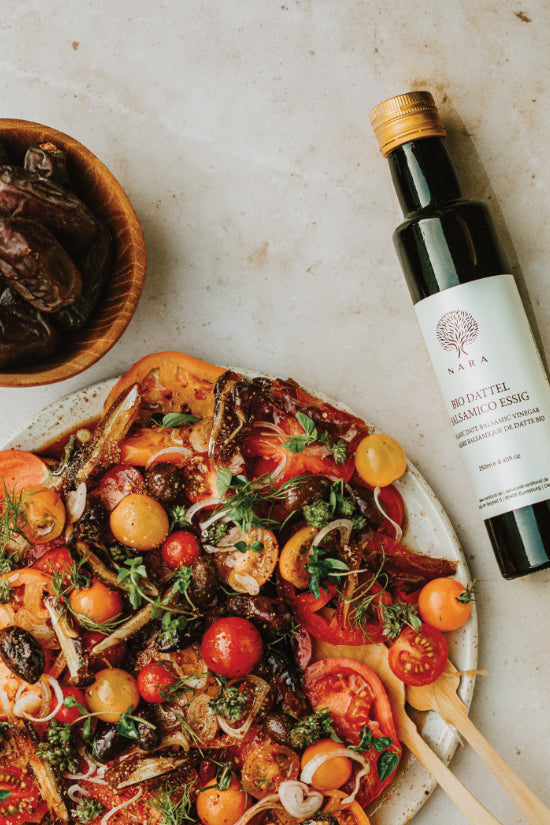 Hauptspeisen
Ein köstlicher Sommer-Salat mit sonnengereiften Tomaten, Kräutern, Oliven und feinem Dattel Dressing mit unserem Dattel-Balsamico-Essig.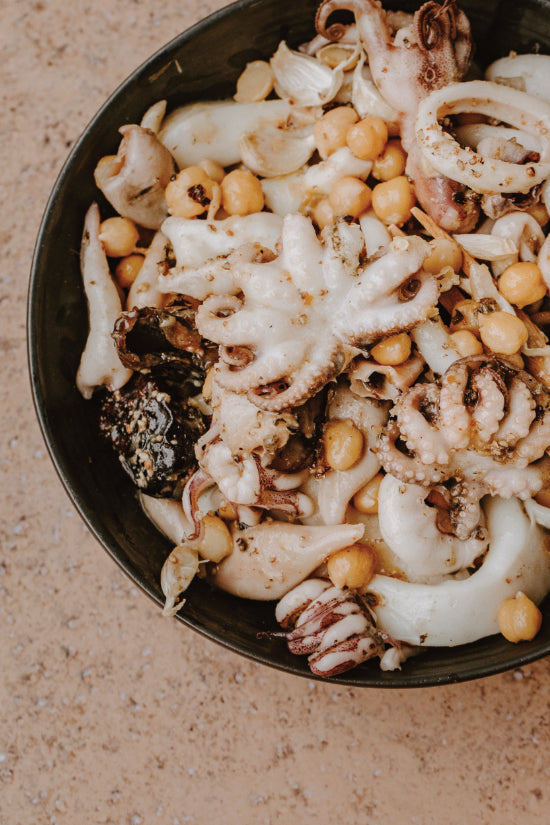 Fisch
Eine bunte Mischung aus Tintenfisch, in der Pfanne scharf angebraten, mit etwas Knoblauch und Zitrone, dazu Kichererbsen und unsere süßliche Dattelbutter. Simpel und lecker!