Kholas Super Fresh Organic Dates - A unique taste experience awaits you!
Our Kholas Super Fresh Organic Dates are of the highest quality and offer you a special kind of taste experience. Their unique variety of flavors with notes of butter, caramel and toffee will enchant you.
Creamy-soft and juicy thanks to early harvesting
Due to their particularly early harvest, Kholas dates are creamy-soft and juicy. Each bite literally melts on the tongue and unfolds its full aroma. Experience the wonderful pleasure that only fresh dates can offer.
Freshness for months thanks to optimal storage
In order for you to enjoy our Kholas dates for a long time, they are continuously stored in a cool place. This ensures that they retain their freshness and incomparable taste for months. Enjoy the full pleasure of dates again and again, whenever you want.
Perfect accompaniment to tea and coffee
Kholas Super Fresh Organic Dates are the perfect complement to your tea or coffee enjoyment. Their sweet and intense aroma harmonizes perfectly with the flavors of hot drinks, giving them a special touch.
One of the most popular date varieties in the Arab world
In the Arab world, Kholas dates are one of the most popular date varieties. Their unique flavor quality and versatility make them a culinary highlight in many dishes and desserts.
Direct import from our partner farm in Saudi Arabia
At Narafood, we import Kholas Super Fresh Organic Dates directly from our partner farm in Saudi Arabia. This way, we ensure that you get only the best and freshest dates, grown with love and care.
Discover the unique taste experience of our Kholas Super Fresh Organic Dates now. Dive into their buttery soft texture and enjoy the incomparable aroma of caramel and toffee. Order online today and let the quality and freshness of our dates convince you.
Average nutritional values per 100g
Energy 1432 kj / 342 kcal
Fat
of which saturated fatty acids
Carbohydrates
of which sugar
Protein
Salt
Country of origin: Saudi-Arabien
Unsere Partner-Farm in Saudi-Arabien liegt in der malerischen Region Al Ghat, etwa 200 Kilometer nordwestlich von der pulsierenden Hauptstadt Riyadh. Al Ghat bietet mit heißen Sommern und milden Wintern ideale Bedingungen für den Dattelanbau.

Die Farm ist ein Vorreiter der biologischen Landwirtschaft in Saudi-Arabien und wurde als eine der ersten Farmen im Land mit dem EU-Bio-Zertifikat ausgezeichnet. Unser saudischer Dattel-Bauer legt großen Wert auf den Schutz der Umwelt und die Erhaltung der natürlichen Ressourcen und hat sich mit Aufbau der Farm dazu entschlossen, auf den Einsatz von chemischen Düngemitteln und Pestiziden zu verzichten.

Auf der Farm wird eine große Vielfalt an unterschiedlichen Dattelsorten angebaut. Momentan beziehen wir 9 unserer Dattelsorten von unserer saudischen Partner-Farm.
Hauptspeisen
Mit dieser feinen Kartoffel-Lauch-Suppe stillt man an kalten Tagen das Bedürfnis nach einer wärmenden Mahlzeit. Das knusprig süße Dattel-Nuss-Topping verleiht dem herzhaften Suppen-Klassiker einen ...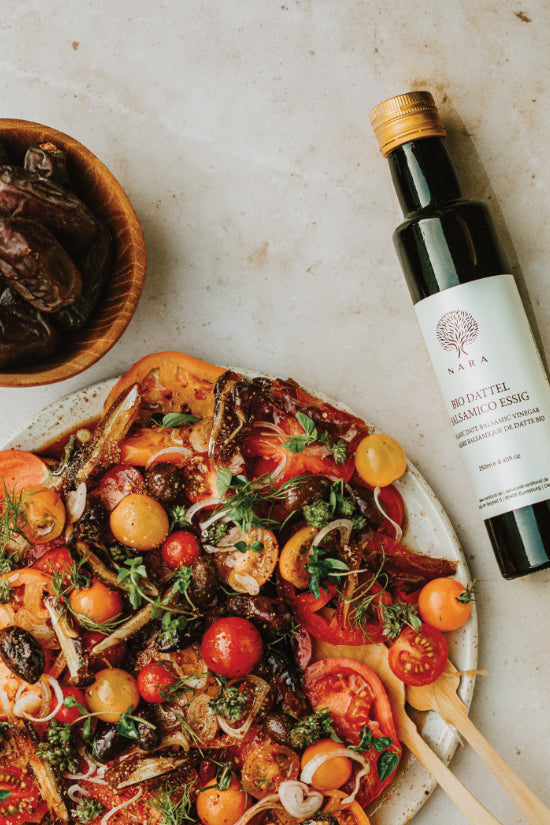 Hauptspeisen
Ein köstlicher Sommer-Salat mit sonnengereiften Tomaten, Kräutern, Oliven und feinem Dattel Dressing mit unserem Dattel-Balsamico-Essig.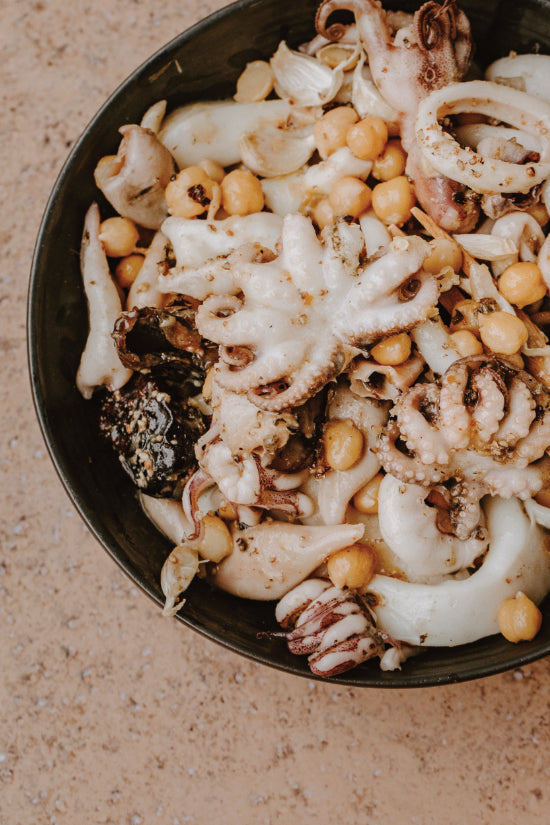 Fisch
Eine bunte Mischung aus Tintenfisch, in der Pfanne scharf angebraten, mit etwas Knoblauch und Zitrone, dazu Kichererbsen und unsere süßliche Dattelbutter. Simpel und lecker!