Demeter olive oil from Tunisia: pleasure for your daily kitchen
Our olive oil is produced according to the strict guidelines of organic Demeter cultivation. It comes from the sun-drenched olive groves of Tunisia, where the olives ripen under optimal conditions. Demeter certification guarantees not only organic cultivation, but also the use of holistic and sustainable farming methods. Immerse yourself in the pleasure of high quality olive oil, produced with care and respect for nature.
Mild in taste, perfect for everyday use.
Our Demeter olive oil from Tunisia is characterized by its mild taste. It has a pleasant freshness and a light fruitiness that perfectly complements a variety of dishes. Whether salads, pasta, vegetables or grilled meat - this olive oil gives your dishes a gentle touch without being dominant. It is great as an everyday oil and can be used in a variety of ways in your daily cooking. Experience the fine taste that enriches your dishes and takes you on a culinary journey to Tunisia.
Versatile, an all-rounder in the kitchen
Our Demeter olive oil from Tunisia is a true all-rounder in the kitchen. You can use it for frying, braising or grilling and thus give your dishes a fine nuance of flavor. It is also ideal as a dressing for salads and provides an aromatic rounding of your creations. You can also use it as a dip for fresh bread or process it into delicious sauces and marinades. The wide range of applications of this olive oil will delight you and inspire you to ever new culinary experiments.
A journey to Tunisia on your plate
With our Demeter olive oil from Tunisia you bring the taste and aromas of the sunny country directly to your plate. The careful production and the selected olives give this oil a special quality that you will taste with every bite. Immerse yourself in Mediterranean cuisine and enjoy the benefits of this high quality olive oil. Let yourself be inspired by its versatility and mild taste and give your dishes that certain something.
Experience the pleasure and versatility of Demeter olive oil from Tunisia. Order it directly online and enrich your kitchen with this high-quality oil that will take you on a culinary journey to the sunny south.
Average nutritional values per 100g
Energy
Fat
of which saturated fatty acids
Carbohydrates
of which sugar
Protein
Salt
Country of origin: Tunesien
Hauptspeisen
Mit dieser feinen Kartoffel-Lauch-Suppe stillt man an kalten Tagen das Bedürfnis nach einer wärmenden Mahlzeit. Das knusprig süße Dattel-Nuss-Topping verleiht dem herzhaften Suppen-Klassiker einen ...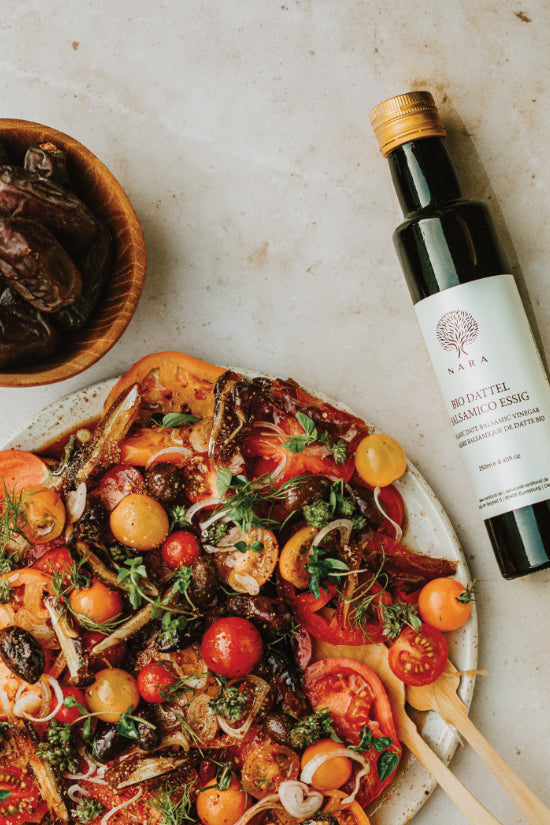 Hauptspeisen
Ein köstlicher Sommer-Salat mit sonnengereiften Tomaten, Kräutern, Oliven und feinem Dattel Dressing mit unserem Dattel-Balsamico-Essig.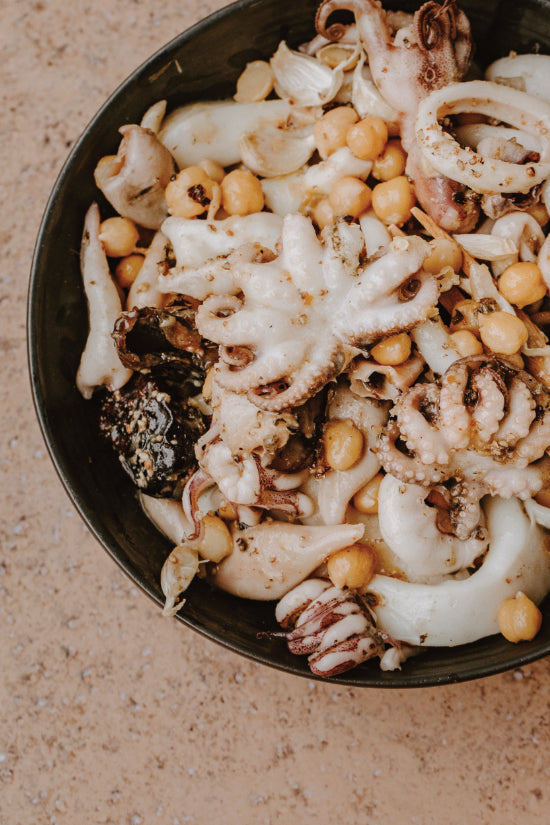 Fisch
Eine bunte Mischung aus Tintenfisch, in der Pfanne scharf angebraten, mit etwas Knoblauch und Zitrone, dazu Kichererbsen und unsere süßliche Dattelbutter. Simpel und lecker!