Cashews in organic quality
Our cashews are grown and harvested with the utmost care in the best organic quality. We rely on sustainable farming methods to provide you with a high quality and healthy product. Organic farming ensures that the cashews are free of chemical pesticides and artificial fertilizers. Enjoy the natural and pure taste of our premium cashews.
Use of cashews in vegan cuisine
Cashews are a versatile and valuable ingredient in vegan cooking. Their creamy texture and mild flavor make them a popular ingredient in many vegan dishes. You can make cashews into a delicious cashew cream that can be used as a base for dips, sauces or desserts. Cashews are also great for making vegan cheese substitutes by combining them with spices and ingredients to make a smooth paste. The many uses of cashews in vegan cooking make them an essential ingredient for those who prefer a plant-based diet.
What's in cashews?
Cashews are not only delicious, but also rich in important nutrients. They contain a good amount of unsaturated fatty acids, which can contribute to healthy heart function. Cashews are also a good source of plant-based protein, which is important for muscle building and recovery. In addition, cashews contain vitamin E, B vitamins, magnesium, zinc and iron, which are important for many functions in the body. With their natural nutrient profile, cashews are a healthy and delicious addition to your diet.
Combine organic cashews with your favorite dates!

The combination of cashews and dates is a real treat. The sweet and sticky texture of the dates blends perfectly with the creamy and mild flavor of the cashews. You can make them into a delicious cashew date cream that can be used as a spread on bread or as a filling for sweet treats. Cashews and dates can also be combined to make delicious energy balls by combining them with other ingredients such as oatmeal, coconut or cocoa to make a dough mixture. The sweet and nutty combination of cashews and dates is not only delicious, but also high in energy and nutrients.
Enjoy now the natural and healthy pleasure of our delicious cashews in best organic quality. Order cashews online and discover the many ways you can use them in vegan cuisine and in combination with dates.
Average nutritional values per 100g
Energy 2417 kj / 577 kcal
Fat
of which saturated fatty acids
Carbohydrates
of which sugar
Protein
Salt
Country of origin: Indonesien
Geniale Cashews!
Ich habe schon oft die Cashews bei Nara gekauft. Qualität und Geschmack waren immer richtig gut und lecker. Es gibt keinen besseren Rohkost-Cashews zu kaufen!
Hauptspeisen
Mit dieser feinen Kartoffel-Lauch-Suppe stillt man an kalten Tagen das Bedürfnis nach einer wärmenden Mahlzeit. Das knusprig süße Dattel-Nuss-Topping verleiht dem herzhaften Suppen-Klassiker einen ...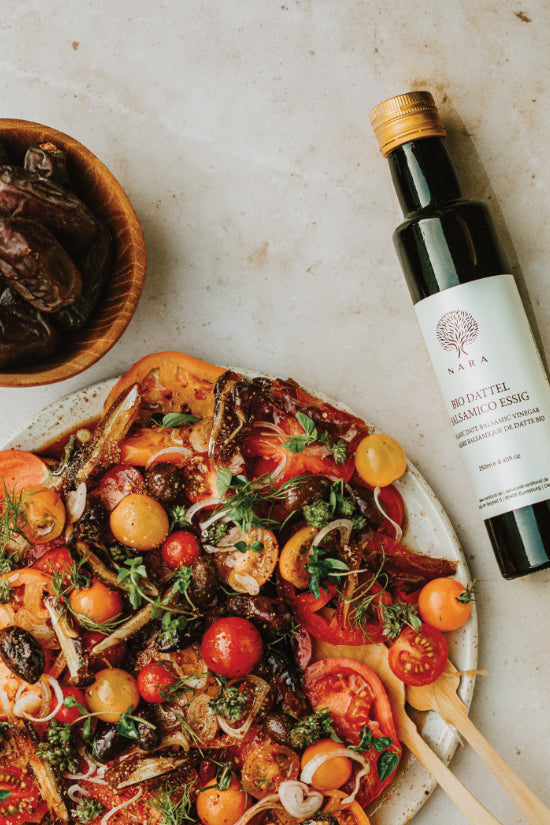 Hauptspeisen
Ein köstlicher Sommer-Salat mit sonnengereiften Tomaten, Kräutern, Oliven und feinem Dattel Dressing mit unserem Dattel-Balsamico-Essig.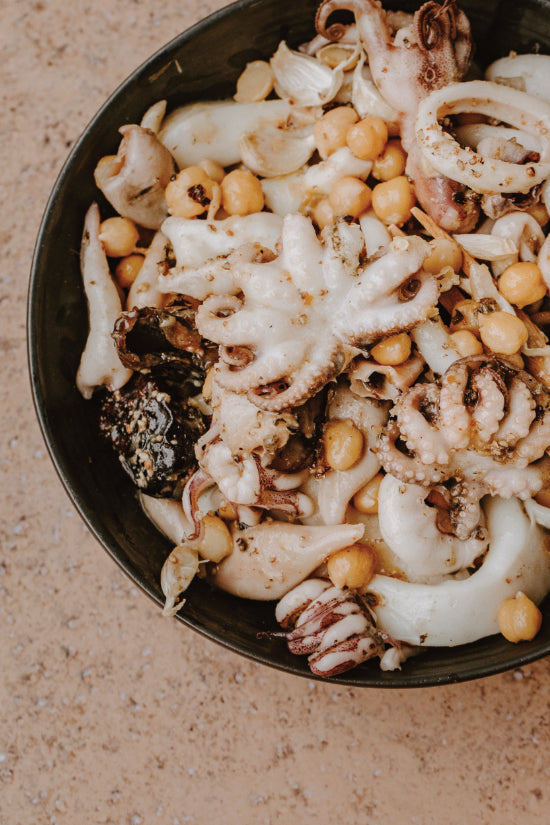 Fisch
Eine bunte Mischung aus Tintenfisch, in der Pfanne scharf angebraten, mit etwas Knoblauch und Zitrone, dazu Kichererbsen und unsere süßliche Dattelbutter. Simpel und lecker!