Chocolate as in date chocolate cream
If, like us, you are a lover of sweets and especially chocolate, you naturally look for ways to include chocolate in your diet as often and as purely as possible. So what could be more natural for us as date fans than to combine our two passions? We spread the sweet mixture of juicy, lusciously sweet date puree and delicately melting chocolate mass on our bread, spoon it on just like that or turn it into a dip for our daily fruit ration.
Date-chocolate spread - because delicious can be so simple
The ingredient lists on chocolate spreads in the supermarket are usually endless. Preservatives, flavors, fats - we ask ourselves: why so complicated, when it can be much simpler, more delicious and, by the way, healthier? The basis of our date chocolate cream is a puree of fresh Mazafati organic dates from the Arabian Peninsula. This fruit puree gives the finished product its luscious sweetness, the chocolate mass, on the other hand, the stunningly creamy consistency and, of course, what makes this date chocolate cream the real star among chocolate spreads, namely a generous portion of cocoa flavor. And it couldn't be more natural: whole, organically grown cocoa nuts are used for the cocoa mass, which means cacao butter with 100% cocoa content. Dates and cocoa beans, that's it? Yes, that's it and that's all it takes for the perfect treat.
Spread it on thick and treat yourself quite literally in the process.
Although this date chocolate cream looks so simple at first glance, there's a lot more to it when it comes to doing something good for yourself and your body. Athletes will be interested to know that dates contain a significantly higher amount of potassium than bananas, for example. Potassium is an electrolyte that our body needs to transmit signals to nerves and muscles and thus contributes significantly to their function. In addition, potassium balance is important for maintaining normal blood pressure. Also worth mentioning is the high fiber content of dates, which is why they are rightly dubbed "the bread of the desert". However, what makes the fruit so highly desirable is its simply unbelievable caramel sweetness, which it owes to the fructose it contains. What need is there for elaborately refined sugar? The cocoa mass, for its part, to which the cream owes its melting, already contributes to our well-being through its chocolaty taste alone. So if you take care of yourself and love sweet and creamy, you'll hit the bull's eye with our date chocolate cream.
Date chocolate cream for us and our environment
If you take a closer look at your nutrition, it is usually obvious to think about the environmental compatibility of food production. We take this into account by using organically grown ingredients for our delicacies, where farming is sustainable and without chemical toxins. We also believe that the future belongs to food that is produced in a resource-saving and minimalist way. Here, for example, it's exclusively all-natural cocoa liquor and date puree that combine to create a simple yet sumptuously delicious chocolate spread. And last but not least, our chocolate cream comes without milk and other animal products and is therefore absolutely animal-free or vegan.
Not without my date chocolate cream
What may sound fancy and complicated is de facto simply one thing, and that is delicious. Delicious as a spread for breakfast or in a snack, chocolaty with fruit and nuts, versatile as an ingredient for bars and pastries. In addition, how about a sophisticated chocolaty sauce at a barbecue? Chocolate cakes, brownies and lava cakes can now be made without buttercream and melted chocolate - sugar-free and much tastier with chocolate date cream. Stored in a dry and cool place, it will theoretically keep for a whole year, but we haven't let it get that far yet. Perhaps, but only perhaps, such a glass of divine chocolate pleasure disappears simply on a cozy evening on the sofa. Who could blame us? If you can't get enough of the unbeatable combination of chocolate and dates, take a look at our chocolate dates.
Average nutritional values per 100g
Energy 966 kj / 231 kcal
Fat
of which saturated fatty acids
Carbohydrates
of which sugar
Protein
Salt
Country of origin: Deutschland
Dattel Schoko Creme
Sehr lecker, gute Mischung aus Dattel und Schokolade. Könnte allerdings für meinen Geschmack ein wenig streichzarter sein.
Wir arbeiten bereits daran, die Creme streichfähiger zu machen. Das ist bei zwei Zutaten, Datteln und Kakao, aber gar nicht so leicht. Allen Kunden, welchen Streichfähigkeit und Cremigkeit (auch aus dem Kühlschrank) wichtig ist, empfehlen wir daher momentan unsere Dattel Nougat Creme, Dattel Tahini, Dattel Kokos Creme oder das reine Dattelmus. Wir wünschen auf jeden Fall weiterhin viel Freude mit unseren Aufstrichen.
Hauptspeisen
Mit dieser feinen Kartoffel-Lauch-Suppe stillt man an kalten Tagen das Bedürfnis nach einer wärmenden Mahlzeit. Das knusprig süße Dattel-Nuss-Topping verleiht dem herzhaften Suppen-Klassiker einen ...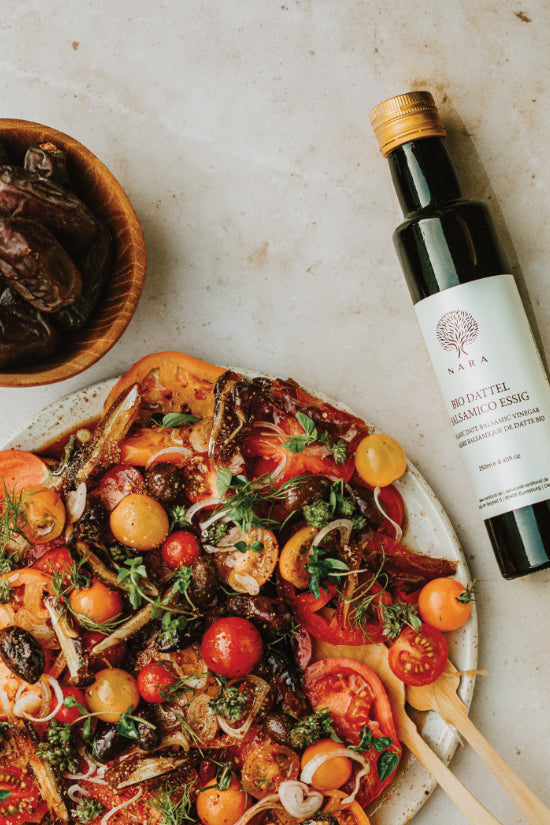 Hauptspeisen
Ein köstlicher Sommer-Salat mit sonnengereiften Tomaten, Kräutern, Oliven und feinem Dattel Dressing mit unserem Dattel-Balsamico-Essig.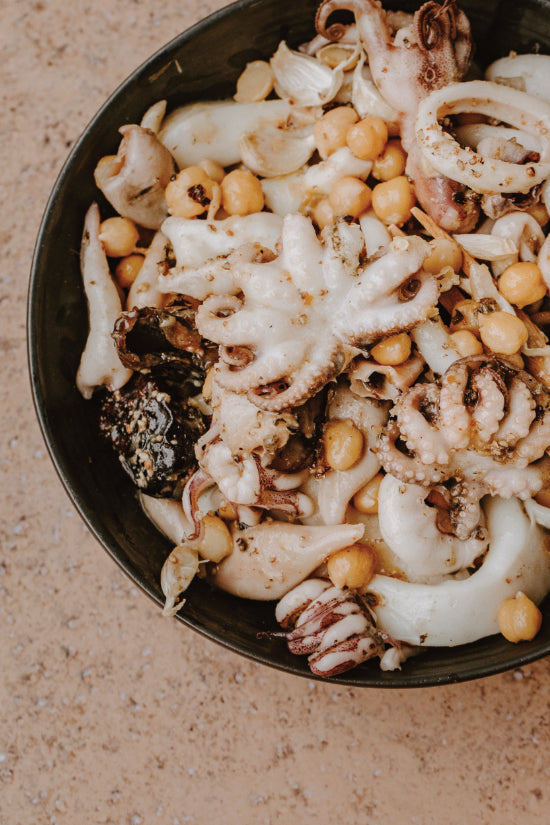 Fisch
Eine bunte Mischung aus Tintenfisch, in der Pfanne scharf angebraten, mit etwas Knoblauch und Zitrone, dazu Kichererbsen und unsere süßliche Dattelbutter. Simpel und lecker!